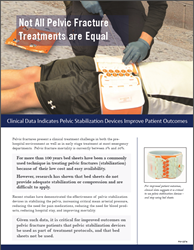 Using Pelvic Stabilization Devices improves pelvic fracture outcomes over other treatments - including bed sheets.
Vancouver, British Columbia (PRWEB) March 10, 2015
Pyng Medical Corp. (PYT:TSX.V), announces the release of a new clinical review paper, "Not All Pelvic Fracture Treatments Are Equal".
This new paper reviews four independent studies that demonstrate the effectiveness of pelvic stabilization devices in improving outcomes for pelvic fracture patients. The studies indicate that using pelvic stabilization devices is beneficial in terms of stabilizing the pelvis, increasing critical mean arterial pressure, reducing the need for pain medications, reducing the need for blood products, reducing hospital stay, and improving mortality.
Pyng Medical CEO Mark Hodge commented, "For many years bed sheets have been commonly used in treating pelvic fractures because of their low cost and easy availability. However, recent data indicates that bed sheets do not provide adequate stabilization or compression for pelvic fractures, and are difficult to apply."
Continues Hodge, "The results of these studies lead to a powerful conclusion. Using pelvic stabilization devices improves pelvic fracture patient outcomes over other treatments, and bed sheets should not be used when caregivers are concerned with such factors as closure of diastasis, transfusion rates, and length of hospital stay.."
The Clinical Review Paper and links to the supporting studies can be accessed by online at go.pyng.com/pelvic.
ABOUT PYNG MEDICAL:
Pyng Medical Corp. engineers and markets award-winning trauma and resuscitation products for front-line critical care personnel world-wide. Pyng's product portfolio includes innovative sternal IO, pelvic stabilization, and tourniquet devices specifically designed and customized for both the military and civilian markets. With growing markets in North America, Europe and Asia, Pyng develops user-preferred medical devices for use by hospital staff, emergency medical services and military forces worldwide. More information about Pyng is available on SEDAR at http://www.sedar.com under the Company's profile and on its website: http://www.pyng.com.
Safe Harbour Statement; Forward-Looking Statements:
This release may contain forward-looking statements based on management's expectations, estimates and projections. All statements that address expectations or projections about the future, including statements about the Company's strategy for growth, product development, market position, expected expenditures and financial results are forward-looking statements. Some of the forward-looking statements may be identified by words like "expects", "anticipates", "plans", "intends", "projects", "indicates", and similar expressions. These statements are not guarantees of future performance and involve a number of risks, uncertainties and assumptions. Many factors, including those discussed more fully elsewhere in this release and in documents which may be filed with the British Columbia Securities Commission, the Alberta Securities Commission, the Ontario Securities Commission, the TSX Venture Exchange, as well as other USA Commissions, could cause results to differ materially from those stated. These factors include, but are not limited to changes in the laws, regulations, policies and economic conditions, including inflation, interest and foreign currency exchange rates, of countries in which the Company does business; competitive pressures; successful integration of structural changes, including restructuring plans, acquisitions, divestitures and alliances; cost of raw material, research and development of new products, including regulatory approval and market acceptance; and seasonality of sales in some products.
Neither the TSX Venture Exchange nor its Regulatory Service Provider (as that term is defined in the policies of the TSX Venture Exchange) accepts responsibility for the adequacy or accuracy of this release.
Financial Contact:
George Dorin
Chief Financial Officer
Pyng Medical Corp.
(604) 303-7964 x219
http://www.pyng.com