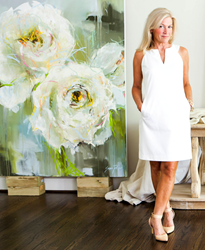 An exceptional work of art will appear effortless. It will have a voice, it will draw you in, evoke an emotion, tell a story, and bring forth something never before touched or understood.
Atlanta, GA (PRWEB) March 13, 2015
Widely acclaimed artist Susie Pryor opened her Atlanta gallery, Pryor Fine Art, 25 years ago creating a unique platform for artists to showcase their work. Pryor now celebrates a milestone anniversary. Her keen eye and understanding of the process are the cornerstones for the longevity of the business. Pryor Fine Art is uniquely positioned in the art world as a result of being artist owned and has stood the test of time and economic challenges.
After studying Art History at the University of Georgia and working for 10 years in the fashion industry, Pryor found herself seeking to reconnect with art and those who create it. Pryor launched the gallery in 1990 with a focus on finding emerging artists who would become the modern masters of today.
An art business set up by a painter is a rare business model, but it's also the ultimate scenario for an entrepreneur to fully engage both sides of the brain. The gallery represents more than 60 artists from throughout the U.S. and Canada. Pryor divides her time between painting and searching for artists who share her aesthetic sensibilities and whose works fit her business objectives. "I am often asked why I continue to do both," she says, "Running the gallery challenges me to think in an analytical mode, and it is a refreshing break from my usual creative process."
Pryor Fine Art has launched the careers of dozens of artists by fostering long-standing partnerships based upon trust and understanding. "Trust is the key ingredient," she explains, "It's the fertile root of all of our relationships."
Artist France Jodoin says, "For me, being asked by Susie Pryor to join the roster of artists at Pryor Fine Art five years ago marked the beginning of an exceptional relationship. The dedication and professionalism of the gallery's staff was evident from day one and has never flagged."
"One of the most fascinating elements of the business is working with so many talented artists, some of whom have been with me for more than 20 years," Pryor says, "They share genuine emotion through their works and are able to create from a place within, a third level of consciousness that most of us never tap into." There is a comfort for artists to know that the art dealer understands their creative process first hand. "It's true! I know all too well the drought of artist block, the highs of a breakthrough, and the daunting perils and constant uncertainties of earning a living by the act of creating," she says.
While the 5,500 square-foot gallery in Atlanta's affluent neighborhood of Buckhead, has a strong hold on the abstract market, it is diverse in painting genre and sculpture, and it has a history of promoting painters of the figure. Pryor Fine Art reaches clients worldwide. Factors such as unprecedented customer service and the impact of technology have played a significant role in the gallery's success. Interior designers, the gallery's predominant market, utilize the gallery's savvy website and catalog as tools toward designing spaces and building collections. Boston Designer Cathie Skaletsky says, "Pryor Fine Art is our first go-to for art; the selection is like no other gallery in the country, and the service is remarkable."
When asked what she looks for, Pryor concludes, "An exceptional work of art will appear effortless. It will have a voice, it will draw you in, evoke an emotion, tell a story, and bring forth something never before touched or understood."
Pryor Fine Art is located at 764 Miami Circle, Suite 132, Atlanta, Georgia 30324, and offers one of the most extensive and exclusive collections of contemporary fine art in North America. For more information call (404) 352-8775 or visit http://www.pryorfineart.com.
END
###
For Immediate Release
Contact: Andrea Burroughs, andrea(at)pryorfineart(dot)com, (404) 663-5755
http://www.pryorfineart.com
High-resolution and additional photographs available