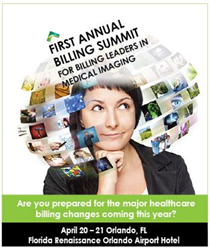 The Summit is a way to put our heads together and improve patient outcomes.
Greensboro, NC (PRWEB) March 10, 2015
The First Annual Medical Imaging Billing Summit will feature nationally recognized experts in revenue cycle management and collections. The event takes place April 20-21 in Orlando, Florida at The Renaissance Orlando Airport Hotel.
The Summit is an unprecedented opportunity organized by Canopy Partners and Merge Healthcare for leaders in healthcare management to improve revenue cycle management processes and boost net collections rates.
According to Debbie Hodges, Director of Revenue Cycle Management at Canopy Partners, the role of technology in medical billing is increasing: "In the last few years our industry has seen new government mandates, payer and provider alliances as well as increasing interoperability. All of these factors increase technology expectations. The Summit is a way to put our heads together and improve patient outcomes."
The 2015 Billing Summit is a 1.5 day conference. Concurrent and plenary sessions including:

2015 regulatory updates
ICD-10 Readiness: Five-point checklist
How to use gap analysis and predictive analytics to reduce losses
Reimbursement trends and strategies
New payment models and bundling methods
Pros and cons of in-house, outsourced and cloud-hosted billing options
Billing and collections secrets to success
Negotiating the best contracts with insurers
Featured speakers and topics include:
Steven Tolle, Chief Strategy Officer, Merge Healthcare - Maintaining referral relationships through payer changes
Dr. Eric Mansell, President, Greensboro Radiology - Future models of Radiology service and reimbursement
Breakout sessions facilitated by Canopy Partners, Infinix, Instamed, Merge, Revenue Advantage and others.
The First Annual Revenue Cycle Management and Billing Summit is sponsored by Merge Healthcare and Canopy Partners. Take advantage of this opportunity to join fellow senior medical billing managers and network with industry experts and peers.
To learn more or register for this event, please visit the Billing Summit registration page. Space is limited to the first 50 attendees. Don't miss out.
###
About Canopy Partners
Canopy Partners is a privately held healthcare technology company that specializes in medical billing, business analytics, information technology, and management consulting services. Our passion is elevating the role of medical imaging in the healthcare value chain. We create flexible, customer-driven business solutions that improve our client's productivity, profitability, and patient care. To learn more, please visit http://www.canopy-partners.com.
About Merge Healthcare
Merge is a leading provider of innovative enterprise imaging, interoperability, and clinical systems that seek to advance healthcare. Merge's enterprise and cloud-based technologies for image-intensive specialties provide access to any image, anywhere, anytime. Merge also provides clinical trials software with end-to-end study support in a single platform and other intelligent health data and analytics solutions. With solutions proven by providers for more than 25 years, Merge is helping to reduce costs, improve efficiencies and enhance the quality of healthcare worldwide. For more information, visit http://www.merge.com and follow us @MergeHealthcare.