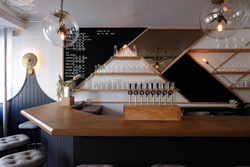 By pairing a focus on quality and affordability with a relaxed, non-intimidating atmosphere, Lois aims to put the bar back in wine bar.
New York, NY (PRWEB) March 11, 2015
Passionate eaters, drinkers and longtime friends Phoebe Connell and Nora O'Malley, introduce Lois, a new bar inspired by one simple idea: when it comes to food and wine, quality and accessibility are not mutually exclusive. Located at 98 Avenue C (between East 6th and East 7th streets), the East Village bar will open on Monday March 16th serving wine and beer—exclusively on tap—along with house made small plates. By pairing a focus on quality and affordability with a relaxed, non-intimidating atmosphere, Lois aims to put the bar back in wine bar.
WHY WINE ON TAP?
"I fell in love with wine when I was working in Italy after college, mostly because I could afford it," says owner and wine director Nora O'Malley. "The lower price points allowed me to experiment and explore, but when I came back to the U.S. I quickly realized that quality wines at affordable prices were much harder to find, especially at a bar or restaurant. When I found wine on tap, a light bulb went off and I became obsessed. It's incredible how a simple change of format has the ability to lower costs, increase accessibility, and make even the most inexperienced wine drinker feel comfortable."
THE STORY
After deciding to pursue a career in wine and a Sommelier certification, O'Malley noticed a Facebook post by former high school classmate Phoebe Connell seeking a manager for Alphabet City Wine Co., owned by David Hitchner. Connell was managing the food program at Hitchner's other nearby business, ABC Beer Co. while pursuing a Masters in Food Studies from NYU. The two reunited on Avenue C and it wasn't long before they started dreaming about ways to combine their shared love of wine, food and community.
"I felt immediately at home on Avenue C when I became the food manager at ABC Beer Co. during grad school. When I finished school and started thinking about what I would do next, nothing felt more natural than continuing to share good food with this neighborhood," says owner and food director Connell. "My path to food and cooking wasn't linear, but there's a universality to food—everyone has to eat—that kept bringing me back to it. Finding pleasure in necessity—that's really what eating well is all about. At Lois we'll all be eating well."
Connell created the food menu with a focus on seasonality, resulting in simple and delicious small plates, such as clothbound cheddar-topped ribollita (a hearty, traditional Italian stew), house-made pork rillettes, and corn cake arepas with duck confit. Connell's menu will also feature a rotating arsenal of artisanal cheeses, a nod to her background as a cheesemonger, which will be chosen to pair with the 16 wines and 2 beers on tap at Lois.
"It's no secret that ordering wine and pairing it with food can be intimidating, but we've found that wine on tap can make the whole process more relaxed, more fun. You can taste before you order and discover new favorites without breaking the bank," says Connell. The quality and selection has grown exponentially in the New York market over the past few years—you can find fantastic wines on tap at top restaurants like St. Anslem and The John Dory, but there are no 'wine bars' in Manhattan going all-in on draft wine. We're thrilled to bring Lois to the East Village, and we can't wait to share this relatively new way of enjoying wine with our favorite neighborhood."
THE SPACE
The bar, designed by Michael J. Groth, sits directly between Alphabet City Wine Company (still managed by O'Malley) and ABC Beer Co. (still managed by Connell), both of which are owned by Hitchner. It features warm woods, oversized mirrors, and brass-accented lights designed by Groth and Philadelphia-based artist Robert Ogden. The custom banquette seats 14 and is upholstered with a vintage Turkish Kilim from the 19th century, while the poured concrete bar top and large windows comfortably seat another 16 at padded bar stools. Studio XXIX's playful branding extends beyond just the logo and website to the simple and classic wall-mounted menus, as well as the custom wallpaper.
WHAT TO EXPECT
Lois is not a traditional "date-y" wine bar; it's designed to be a casual, relaxing environment where visitors can learn as much (or as little) as they want about the wines currently on tap. Bartenders will choose the music—requests are welcome, pretension is not.
Lois is open seven days a week; Monday-Saturday from 4:00 p.m. until midnight, and Sunday from 4:00pm-11pm. Lois is also available for private classes and events.