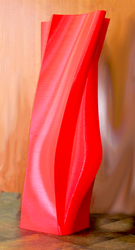 [Tools] aren't just how I make my art. They are also part of what influences my work's flow and form. -- Sculptor Kevin Caron
Pinal County, AZ (PRWEB) March 09, 2015
Kevin Caron's artwork comes right at you. "Even the sculptures that don't literally move have amazing energy," says patron Karen Leff. She's one of the many collectors and admirers from around the world who have purchased and enjoyed Phoenix artist Caron's often surprising sculpture.
The broad range of Caron's work will be well represented in "Slash, Swoop, Swerve," at Central Arizona College (8470 N. Overfield Road, Coolidge, AZ). "Although this isn't officially a retrospective," says Caron, "the show includes work from many of my series."
The sculptures range from the "slashing" of the more than nine foot-tall Cosmography to the "swooping" of the never-ending sculpture CounterSprung to the "swerve" of Hot Lips, one of his latest 3D printed sculptures.
The show's free opening reception is Tuesday, March 10 from 5:30 to 8 p.m. in the Visual Arts Gallery of the M Building at the college's Signal Peak Campus. Caron will be in attendance at the opening to greet guests and answer questions. The show runs through April 24.
Although it certainly applies to his work, the name of the show could also refer to Caron's career. A self-taught artist who now works full time as a sculptor, Caron previously repaired ground equipment in the Navy, repaired cars in his foreign auto garage, and drove an 18-wheeler. His time on the road and lifelong experience with various equipment has clearly influenced his art.
So has his interest in tools. "They aren't just how I make my art," he explains. "They are also part of what influences my work's flow and form." This fascination has helped lead to Caron becoming a pioneer in using 3D printing to create sculptures — two of which are in this show — and a line of jewelry. "I could never make anything as small as jewelry before, but with 3D printing, I can," he says.
His jewelry and sculpture can be seen — and heard, in the case of his sound sculptures, for which he is widely known — on his Web site at http://www.kevincaron.com.
For more information about the show at CAC, contact Tom Belden at 520-560-2452 or Thomas(dot)belden(at)centralaz(dot)edu .