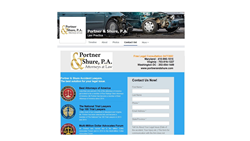 The only way clients can receive exceptional customer service in handling their claims is to have instant access to their attorney and claims manager.
Columbia, Maryland (PRWEB) March 11, 2015
Portner & Shure is excited to announce that through the firm's Facebook page, there is now an Instant Access Hotline for more immediate communication.
They understand that the number one reason clients switch to Portner & Shure from other law firms is because of experiences involving poor or lack of communication with that office. This new hotline will enable all clients to have instant access to Portner & Shure's Managing Partner, Jon, and Claims Manager, Sarah, throughout the day.
Attorney Jonathan Portner wants clients to know that, "If there is any trouble communicating with your assigned claims paralegal, you can access our Facebook page by simply clicking on the 'contact us' button and send us a message." Jon and Sarah monitor the page throughout the day, ensuring clients get an immediate response.
In addition to providing access to Portner & Shure's management team, the Facebook page will also keep people up-to-date with other news, entertainment, and changes in the law. Therefore, Mr. Portner "strongly urges you to 'like' our page and invite your friends and family to 'like' us on Facebook too."