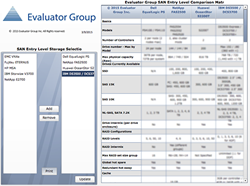 Download the Entry Level SAN Interactive Comparison Matrix free today
Boulder, CO (PRWEB) March 10, 2015
For IT professionals and vendors alike, researching the latest technology or product can be a time-consuming process yielding unreliable data. Researching multiple products drains even more time and resources, as one searches dozens of sites and research reports for accurate and comprehensive data. The nineteen (19) new Interactive Comparison Matrices (ICM) from Evaluator Group assist in solving that problem.
Companions to Evaluator Group's standard Comparison Matrices and in-depth Product Analyses, the Interactive Comparison Matrices reduce buyers' time spent researching and produce actionable, reliable data. Download the Entry Level SAN Interactive Matrix for free with registration.
On average, each ICM contains 716 data elements that have been researched and compiled by Evaluator Group analysts and are maintained with the latest announcements; users can be assured to have the most up-to-date information. Evaluator Group analysts work independently to guarantee accurate, high-quality data.
The drag-and-drop interface populates data for the selected vendors in normalized categories across each technology and up to four vendors may be compared at a time. Users can print their customized comparisons as PDFs.
The Entry Level SAN Interactive Matrix is available for free with registration. The other 18 Interactive Comparison Matrices are available for download for existing Premium Subscribers. Premium Subscriptions for IT End Users start at $2,750 with access to Comparison Matrices, Product Analyses, and more. For more information on subscriptions visit EvaluatorGroup.com or email us at sales(at)evaluatorgroup(dot)com.
About Evaluator Group
Evaluator Group Inc., an IT storage analyst firm, has been covering Information Management, Storage and Systems for over 15 years. Executives and IT Managers use us daily to make informed decisions to architect and purchase systems supporting their digital data. We surpass the current technology landscape by defining requirements and providing an in-depth knowledge of the products as well as the intricacies that dictate long-term successful strategies.
Press Contact: For more information about Evaluator Group contact Caitlin McCluskey at 303.221.7867 x1008 or caitlin(at)evaluatorgroup(dot)com.