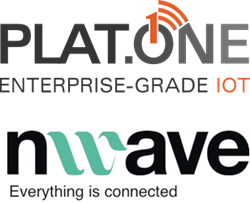 Nwave's unique LPWA solutions are a perfect complement to PLAT.ONE's Enterprise-Grade rapid application platform
Palo Alto, CA (PRWEB) March 10, 2015
– PLAT.ONE (http://www.platone.io), the first Enterprise-Grade Internet of Things (IoT) application platform, today announced a partnership with Nwave (http://www.nwavetec.com), a rapidly growing supplier of low-power, wide-area (LPWA) wireless network solutions to bring a suite of ready-to-use industrial solutions to market, starting with a parking solution.
Nwave's LPWA wireless communication platform and devices are optimized for low data intensive IoT applications. Unlike GSM, CDMA or ZigBee technologies, Nwave's technology is based on an ultra narrow band radio protocol targeted at large scale, high-density, low-maintenance networks of sensors and devices.
Combining Nwave's communication technology with tailored applications built on PLAT.ONE's Enterprise-Grade application platform enables rapid, secure and cost-effective deployments of large-scale IoT solutions for energy, city services, environmental monitoring, healthcare, agriculture, as well as other industries.
The joint parking solution will combine Nwave's Sparkit Smart Parking Solution with ready-to-use parking management and reporting screens that can be deployed on-premises or in a cloud to provide a low-cost, quick deployment solution. The Sparkit solution is perfectly suited for PLAT.ONE's platform including the CITY.ONE vertical solution.
"Our focus at Nwave has been on time to value, enabling customers to rapidly deploy private LPWA solutions in days not months," said Jonathan Wiggin, CEO of Nwave. "PLAT.ONE's rapid application platform allows us to offer those same customers a complete parking management application with an uncompromising approach to security and scalability."
"We are excited to add Nwave to our rapidly growing eco-system of PLAT.ONE-Ready partners. Nwave's unique private LPWA solutions are a perfect complement to PLAT.ONE's Enterprise-Grade rapid application platform providing an open-standards-based set of solutions with proven technology and unmatched scalability," said Filippo Murroni, CEO of PLAT.ONE.
About Nwave
Nwave is a rapidly growing provider of LPWA wireless networking products and solutions designed for Industrial IoT applications such as Smart Parking, Smart Agriculture, Smart Metering and more. Nwave is committed to helping create a connected world in which large numbers of devices can be connected quickly and cost-effectively, providing data that helps improve the quality of life, and is a core member of the Weightless standards organistion, driving the creation of an open global standard for IoT communications based on Nwave's cutting-edge technology. For more information, please visit our website at http://nwavetec.com or follow us on Twitter at @NWave_News
About PLAT.ONE
PLAT.ONE is a renowned developer of Enterprise-Grade software and industrial solutions. Since its release in 2011, PLAT.ONE has established itself as the platform of choice for connected applications in major telecoms, system integrators and global industrial equipment companies. PLAT.ONE's distributed architecture, integrated development and deployment features, and native security and data-aware operations reduce application development time while providing Enterprise-Grade, non-stop operations based on open industry standards. Businesses use PLAT.ONE to deploy innovative connected solutions ranging from smart equipment and transportation to smart cities and manufacturing. For more information, please visit our website at http://www.platone.io or follow us on Twitter at @PLATONEIoT.
# # #