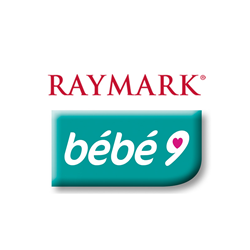 "Teams on both sides are excited to join forces on the development of solutions for a Bébé 9 that's even more connected with its customer community." - France Maternité group CEO, Manuel Lefèvre
MONTREAL, Canada (PRWEB) March 11, 2015
Raymark is thrilled to announce that Bébé 9, of the France Maternité group, has selected Raymark's end-to-end suite of retail enterprise solutions for deployment in its 140 stores. Bébé 9, the first network of independent stores for baby and children's products in France, has selected Raymark as its partner for an omni-channel technology overhaul aimed at centralizing operations, improving efficiency and cultivating customer relationships across e-commerce, social media and other channels. Raymark modules will be deployed at head office as well as in stores on mobile devices, and include Raymark Point of Sale, Clienteling, Replenishment, Reporting and Data Integration Management. Raymark and Bébé 9 will also be collaborating on the development of a new omni-channel gift registry module.
Raymark's highly-configurable retail solutions will enable Bébé 9 to centralize its technology infrastructure and data while providing stores with the autonomy needed to meet local demands. "One of the primary goals of this technology overhaul for the France Maternité group is to obtain a holistic view of Bébé 9 customers throughout the entire network of stores and across all channels. The board of directors and project teams are excited and pleased to move forward with Raymark and with the implementation of modern, connected and mobile store solutions. During the selection process, we uncovered a clear synergy between our team and Raymark's, with common values that celebrate the human side of business and entrepreneurial independence," said the France Maternité group CEO, Manuel Lefèvre.
"We are proud to be partnering for many years to come with a Quebec-based international company like Raymark. Benefitting from the Canadian company's international experience was an important factor influencing our decision to partner with Raymark. Teams on both sides are excited to join forces on the development of solutions for a Bébé 9 that's even more connected with its customer community," Lefèvre added.
"Raymark is grateful for the opportunity to welcome market leader Bébé 9 to our customer community. Our team has enjoyed working closely with Bébé 9 during their vendor selection process to collaboratively build a model for the ideal customer experience that both companies are excited to implement. This exchange of ideas with the Bébé 9 team will enable Raymark to enhance and grow our solutions in new and unique ways. We applaud Bébé 9 for its stringent demands with regard to the quality of customer care and agree that there's a great fit between their requirements and Raymark's suite of retail enterprise solutions," said Jean-François Codron, Vice President of Raymark.
About Bébé 9
Established in 1965, the France Maternité group is the first network of independent stores for baby and children's products in France. First connected with toy stores, the network has grown into an independent brand operating as Bébé 9. To learn more, visit http://www.bebe9.com.
About Raymark
For 25 years, Raymark has been empowering retailers with world-class enterprise software solutions and services to grow customer loyalty, improve associate productivity, optimize stock turns and increase sales. Raymark's integrated, end-to-end suite of retail technology solutions operate in real-time and provide retailers with everything they need for store operations, customer-centric retailing, planning and inventory management, reporting and analytics. To learn more, visit http://www.raymark.com/about.
# # #