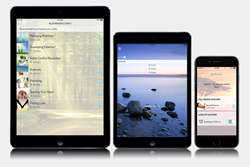 OMG. I Can Meditate! is for real people with busy lives, who have a lot on their minds but not a lot of time.
Los Angeles, USA (PRWEB) March 24, 2015
At last, a meditation app has finally arrived to demystify the art of OM in only 10 minutes a day! Launching on March 19th, OMG. I Can Meditate! is the revolutionary new way to pave calm and bliss, get better sleep, and feel less stress that's as easy as finding a quiet space, pulling up a chair, and tapping play.
Created for those who have never meditated before, as well as those who already love meditation and those who've been disillusioned or tried without success, OMG. I Can Meditate! sets itself apart through its practical approach. In addition to learning how to meditate, users gain practical "happiness" skills that bring the calm and clarity from meditation into their relationships, workplaces, and personal life situations.
Current products throw people right into meditating without the understanding of the how's and why's, leading many to quickly give up feeling that they somehow "did it wrong" or "aren't good meditators". OMG. I Can Meditate! uses an innovative approach to build confidence, set clear expectations, and help users overcome common meditation roadblocks, creating a gentle and progressive deepening of the meditation experience.
Using simple everyday language and clear explanations, app users are guided through a new meditation each day and taught how to bring a sense of calm and clarity into their lives. OMG. I Can Meditate! includes a full library of specialized meditations and guided visualizations for a wide variety of life situations, such as Attracting Abundance, Releasing Fear, Building Self-Esteem, Managing Anger, and even Dealing with a Boss that's a Jerk.
OMG. I Can Meditate! co-founder Lynne Goldberg is the author of "Get Balanced, Get Blissed" and the heart and soul of this amazing app! A successful business executive whose life began to spiral downward after a rapid succession of devastating life blows, she turned to meditation to keep her head above water. Lynne has studied with Deepak Chopra, Sri Dharma Mittra, and Tony Robbins, and now as a certified meditation coach and yoga instructor strategic interventionist, she guides others, from Hollywood celebrities to CEO's, to learn to do the same.
Available for Android phones and tablets, computers, and iPhones/iPads, experience OMG. I Can Meditate! at http://www.omgmeditate.com. Download the iPhone & iPad meditation app at http://apple.co/1CatFMW and get social on Twitter and Facebook.