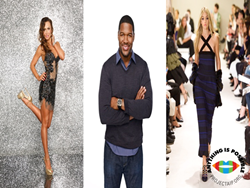 "It Takes A Universe To Raise A Teenager" Gayle Klinger-Gradess
New York, NY (PRWEB) March 11, 2015
Despite stiff competition from corporate giants, newcomer Anything Is Possible (ProjectAIP) walked away with the coveted 2014 CYNOPSIS Social Good Award for best Diversity Campaign or Initiative last week, leaving MTV, USA Network, DIRECTV, Interactive One and Myx-TV as runners up.
ProjectAIP's win was driven by the vital need to educate and inspire today's youth through empowering programming. Recognizing a lack of positive media resources available to young adults, ProjectAIP has joined forces with high profile celebrities such as Michael Strahan, Karina Smirnoff and Misty Copeland to inspire millennials to overcome life obstacles and create stories of success. "My primary focus has always been to empower and create a positive media space to drive social change for young people," said ProjectAIP Executive Producer and Founder Gayle Klinger-Gradess. "It takes a universe to raise a teenager."
Nationally recognized, ProjectAIP produces original, pro-social reality content featuring some of the biggest names in film, music, television, sports, the arts and business.
ProjectAIP provides a unique platform to motivate and inspire while entertaining audiences. The exemplary, celebrated individuals profiled in each ProjectAIP segment have enlightening and thought provoking stories that played key roles in catapulting them to super stardom.
SEASON ONE of ProjectAIP content aired digitally on DEFY Media. SEASON TWO, currently available for distribution, features new and exciting segments. Klinger-Gradess added, "We are building the largest library of inspirational stories for young adults that will be a valuable resource for many years to come."
###