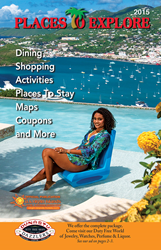 United States Virgin Islands (PRWEB) March 11, 2015
2015 PLACES TO EXPLORE has great features on shopping, dining, water and land sports, sightseeing, history, culture, art, weddings, transportation, lodging, local events calendars, coupons and more. Check out the virtual edition at: http://issuu.com/mediamarketing/docs/placestoexplore_2015
In the current issue of PLACES TO EXPLORE you can read about the history of Virgin Islands:
From Indian tribes to buccaneers to modern day tourists, the U.S. Virgin Islands has always been considered prime real estate! The evidence of the islands' robust history as a popular hot spot is all around. Mysterious petroglyphs carved by ancient Taino Indians, imposing forts to defend the harbors, graceful colonial plantation houses and sugar mills, sunken shipwrecks, and of course, the majestic cruise ships in the harbor.
For hundreds of years, this peaceful cluster of islands was inhabited by small tribes of Taino (or Arawak), Ciboney and Carib Indians. When Christopher Columbus landed on St. Croix in 1493 and claimed them for Spain, island life took a decidedly dramatic turn. Although named Las Islas Virgenes after St. Ursula and her 11,000 virgins, the name did not reflect the attitude! The natural deep-water harbor made Charlotte Amalie a popular trading outpost. Of course, that also made it popular as a hangout for the rough and rowdy crowd! The small Spanish colony became a favorite stop for brawling traders and bawdy pirates.
By the mid-1600s, the Danes had a strong foothold on St. Thomas and gave the small settlement of Tap Haus, or Beer Hall, a more respectable name, Charlotte Amalie (Ah-MAHL-yah), in honor of their queen. It steadily prospered as a hub of commerce and the slave trade. Meanwhile, colonies on St. John and St. Croix concentrated on agriculture, cultivating cotton and sugar cane. Molasses was a natural byproduct of the sugar-making process, which they turned into rum, a very profitable endeavor.
Although St. Thomas and St. John were for the most part ruled by the Danes, St. Croix flew seven different flags, including the Spanish, Dutch, the Knights of Malta and the French. It was sold to the Danish in 1733, uniting the Virgins at last.
Both nature and technology contributed to a decline in prosperity for the Virgin Islands in the 1800s. A succession of droughts, hurricanes, fires and a tidal wave combined with fierce agricultural competition, a brief British occupation, and the abolition of slavery, brought both trade and agriculture to their knees.
All three islands were declared free ports in the early 1800s and by 1820; St. Thomas once again became a center of trade and an important provisioning center for several steamship lines. Success was short-lived, however. New steamship technology allowed Europe to import directly from the producers, bypassing the Virgin Islands. St. Thomas gained prominence again during World War I because of its strategic location in the defense of the Panama Canal. The United States purchased the islands for $25 million in gold from Denmark in 1917.
Travel boomed in the1950s, and the duty-free Virgin Islands turned to tourism as its economic base. Today, St. Thomas is one of the most popular cruise ship ports in the world.
Contents copyright: By Media Marketing, Inc.
To start planning an island getaway, visit http://www.viplacestoexplore.com.
To celebrate, the publishers at Media Marketing, Inc. are doing a monthly giveway. To enter this great giveaway, people simply need to visit the Media Marketing, Inc. Facebook page, https://www.facebook.com/pages/Media-Marketing-Inc/271022269630176?ref=br_tf, click on the free giveaway, then "Like" Media Marketing and fill out an entry form with your email address and some basic information. Our March prize is a 24" x 18" HARBOR FANTASY painting courtesy of: Jonna White Gallery - http://www.jonnawhite.com.
To learn more information about Media Marketing, Inc, the US Virgin Islands and the monthly giveaways, contact them at 340-774-0920 or visit http://www.mediamarketinginc.net.