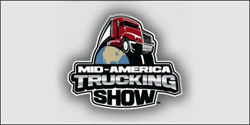 "Holding this seminar at MATS is just one of the ways we're proactively working towards promoting healthier lifestyles for this vital industry." -Siphiwe Baleka, Prime Driver Fitness Coach
SPRINGFIELD, MO (PRWEB) March 10, 2015
North America's premier refrigerated, flatbed and tanker trucking company Prime, Inc. announced they will hold "The Future of Driver Health and Fitness" seminar at the upcoming Mid-America Trucking Show (MATS) held at the Kentucky Expo Center in Louisville, KY. The seminar will take place March 28, 2015 from 3:30 to 4:30 PM.
The seminar will focus on promoting healthy living across the trucking industry, and offer solutions and advice on exercising and choosing smarter meal options on the road as it pertains to the life of a truck driver.
According to the National Institute of Health (NIH), truck drivers are among the unhealthiest Americans with a life expectancy of only 61 years of age. Statistics show that more than 50 percent of truck drivers are obese, compared to the national rate of 26.7 percent. Prime's goal is to decrease these percentages through numerous objectives, including the MATS seminar.
Led by former First Team All Ivy League swimmer, Ironman triathlete and Prime Driver Fitness Coach Siphiwe Baleka, the seminar will show drivers how they can improve their health using Baleka's tried and true methods specifically designed with drivers in mind. Baleka, who was recently featured on Fox Sports in a documentary about his health journey, will suggest various approaches that truck drivers need for lasting wellness. He will also discuss how to leverage digital health technology to build custom systems for both drivers and carriers.
"Prime is really looking forward to this seminar because it gives us a chance to raise awareness for healthy living among the transportation industry. We're passionate about this goal and believe our efforts can and will make a difference. Holding this seminar at MATS is just one of the ways we're proactively working towards promoting healthier lifestyles for this vital industry," says Baleka.
About Prime Inc.
Founded in 1970 by Robert Low, Prime, Inc. is North America's most successful refrigerated, flatbed, tanker and logistics trucking company. Headquartered in Springfield, MO, Prime's personnel, equipment and technology remains on the cutting edge of the transportation industry, and the company's growth remains steady and well managed.
For more information on the 2015 Mid-America Trucking Show, please visit truckingshow.com
###