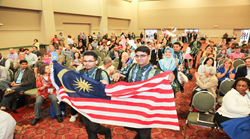 ASQ's International Team Excellence Award process provides an excellent opportunity for organizations to showcase 'Best of the Best' quality improvement projects in a global platform. - Kush K. Shah, General Motors
Milwaukee, Wisconsin (PRWEB) March 12, 2015
ASQ, the world's largest network of quality resources and experts, has announced 40 global teams from 13 countries as finalists in the 30th annual International Team Excellence Awards.
The teams will be part of the quality impact sessions and live team case study presentations May 4–6, at ASQ's annual World Conference on Quality and Improvement at the Gaylord Opryland Resort and Conference Center in Nashville, Tenn.
Teams representing a broad spectrum of industries including manufacturing, service, health care, government and education will vie for the ASQ Gold, Silver and Bronze level awards. Winners will be announced during an awards ceremony on Wednesday, May 6, and will serve as benchmarks of organizational excellence in all industries for years to come.
The finalists' projects showcase creative, innovative solutions and organizational cost-savings. Conference attendees can observe team project presentations that demonstrate the real-life application of quality tools that help companies save millions by creating efficiencies and reducing waste.
The following finalists have been invited to participate in the 2015 International Team Excellence Award Process.
EDUCATION
•National University of Singapore — Singapore
GOVERNMENT
•Colorado Department of Transportation — Denver, Colo.
•Ministry of Defence, Singapore — Singapore
HEALTH CARE
•Humana Pharmacy Solutions — Springdale, Ohio
•Karlskoga Hospital — Karlskoga, Region Örebro County, Sweden
•Mallinckrodt Pharmaceuticals — St. Louis, Mo., and Hobart, N.Y. (two teams)
MANUFACTURING
•ADTRAN Inc. — Huntsville, Ala.
•ALCOA – Power and Propulsion — Whitehall, Mich.
•Altos Hornos de México, S. A. B. de C. V. — Monclova, Coahuila, Mexico
•Aluminium Bahrain (ALBA) — Manama, Kingdom of Bahrain (two teams)
•Civil Aviation Authority of Singapore — Singapore
•Emirates Global Aluminium — Abu Dhabi, United Arab Emirates (two teams)
•Fresnillo Plc. — Minera Saucito Zacatecas, Mexico
•Haier Group — Shandong, China (six teams)
•Minera Fresnillo — Fresnillo, Zacatecas, Mexico
•Northrop Grumman Corporation — El Segundo, Calif.
•Samarco Mining S/A — Vila Velha, Espírito Santo, Brazil
•Shanghai Volkswagen — Shanghai, China
•Shanghai Yanfeng Johnson Controls Seating Co. Ltd. — Shanghai, China
•Sime Darby Biodiesel Sdn Bhd — Kuala Langat, Selangor, Malaysia
SERVICE
•BNY Mellon International Operations (India) Private Limited — Pune, Maharashtra, India (two teams)
•Firstsource Solutions Limited — Chennai, Tamil Nadu, India
•Genpact — Romania, India, and Netherlands (three teams)
•Max Life Insurance Company Limited — Haryana, India
•Movistar –Telefonica de Argentina — Buenos Aires, Argentina (two teams)
•Tata Communications Ltd. — New Delhi, Delhi, India
•Wipro — Pune, Maharashtra, India
•Wyndham Consumer Finance — Las Vegas, Nev.
Since 1985, more than 1,100 teams worldwide have participated in this team recognition process. Organizations such as Alcoa, Anheuser-Busch, Bayer, Coca-Cola, Ford Motor Company, General Motors, Ritz-Carlton and Telefonica — a major cell phone operator in Argentina — have showcased proven results with long-term implications, resulting in cost savings of billions of dollars.
ASQ World Conference Keynotes
Max India Limited's Founder and Chair, Analjit Singh, is one of five keynote speakers who will present at ASQ's 2015 World Conference on Quality and Improvement. In addition to Singh, other keynote speakers include Shawn Achor, New York Times best-selling author and positive psychology researcher; JoAnn Sternke, Ed.D., superintendent, Pewaukee (Wis.) School District; Margaret Heffernan, entrepreneur, chief executive and author; and Charles Best, founder and CEO of DonorsChoose.org.
The World Conference on Quality and Improvement will feature more than 100 sessions that will cover topics critical to a variety of industries including manufacturing, healthcare, government, financial services, and more.
About ASQ
ASQ is a global community of people dedicated to quality who share the ideas and tools that make our world work better. With millions of individual and organizational members of the community in 150 countries, ASQ has the reputation and reach to bring together the diverse quality champions who are transforming the world's corporations, organizations and communities to meet tomorrow's critical challenges. ASQ is headquartered in Milwaukee, Wis., with national service centers in China, India, Mexico and a regional service center in the United Arab Emirates. Learn more about ASQ's members, mission, technologies and training at ASQ