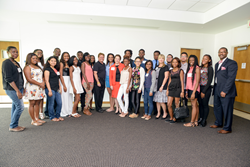 MIAMI, Fla. (PRWEB) March 10, 2015
In alignment with the mission of the Miami Bayside Foundation of developing educational opportunities for minority students in the City of Miami, the gift will support 10 students participating in the Golden Scholars Program during the summer of 2015. FIU's Golden Scholars Program is an intensive, alternative, residential admissions program which serves as an obtainable gateway for underrepresented, first generation student populations who may not meet the general criteria for Undergraduate Admissions. It prepares students who would not otherwise been accepted into FIU to transition into college life and helps ensure that they will graduate through continued mentoring and monitoring. Last year 39 Golden Scholars completed the program and entered as freshmen in September 2014.
The Miami Bayside Foundation, a City of Miami-based nonprofit established in 1986, has created and administers a loan program for City of Miami minority businesses, funds scholarship endowments and gifts educational programs for City of Miami minorities, and provides technical assistance to minority businesses in the City of Miami. The Foundation has awarded 463 scholarships to City of Miami minority students attending Miami Dade College, Florida International University, Florida Memorial University and Miami Dade Public High Schools; it also awarded thirty-five loans that have helped create more than 200 jobs in the City of Miami, and created partnerships that have helped train more than 100 City of Miami minority business owners.
For more information on the Miami Bayside Foundation, please call (305) 379-7070, email info(at)miamibaysidefoundation(dot)org, visit http://www.miamibaysidefoundation.org or follow us on Twitter @MiamiBaysideFo and Facebook: https://www.facebook.com/miamidadescholarship