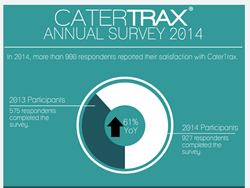 "Our NPS score is a clear indication that keeping our growing team of 75 employees focused on providing the best service possible is making a direct impact for our clients." Rich Rund, Co-Founder, CEO of CaterTrax
Rochester, NY (PRWEB) March 10, 2015
CaterTrax, a recognized authority on catering management technology with over 10 years of learned and best practices serving thousands of clients, released the results of their annual survey today. More than 900 foodservice professionals in managed hospitality and catering participated. CaterTrax was recently honored as a Top 20 Most Promising Food & Beverage Technology Solutions. The data from their annual survey backs-up their vision and mission to improve the quality of life for caterers, foodservice operators and the customers they serve.
This survey shows CaterTrax clients are receiving impressive benefits as clearly illustrated by our net promoter score (NPS). CaterTrax boasts an impressive NPS score of 44, in comparison to the software and apps sector average NPS score of 26. The 2014 U.S. Consumer NPS Benchmark study by Satmetrix Systems Inc., which conducted research with more than 24,000 U.S. consumers, highlights average NPS scores by industry.
The positive trend with CaterTrax's NPS score increasing by 22% is a direct result of the emphasis on service for their software as a service suite of products. "We are a technology company inspired by hospitality because of our roots, but more importantly it is the day to day reality for our clients. Our NPS score is a clear indication that keeping our growing team of 75 employees focused on providing the best service possible is making a direct impact for our clients," says Rich Rund, Co-Founder and CEO of CaterTrax.
CaterTrax plans to keep pace with any technology that will help it outperform competitors. An indicator to an above average NPS score is the growing list of TRAXERS. Their website features clients that have opted to share their passion for the TRAX Platform and in some cases are willing to be a reference for prospective clients.
Dan Welch, Co-Owner & CFO of CaterTrax, adds, "We're committed not just to making CaterTrax better for our clients, but also to making their catering and foodservice operations better for the customers they serve each day. The increased satisfaction ratings depict the success of CaterTrax's mission to provide the solutions and support foodservice operators need to promote, grow, manage, and sustain year over year."
For more key findings from the annual survey by viewing the infographic.
About CaterTrax
CaterTrax is the industry leading online solution developed by hospitality professionals proven to promote, grow, manage, and sustain profitable foodservice businesses. The co-founders of CaterTrax started out with a family-owned catering business where they developed efficient processes for managing large-scale food service operations. These processes became the core of our web-based solutions platform. CaterTrax was created by passionate professionals who understand the realities of managing high volume food and hospitality businesses. http://www.catertrax.com