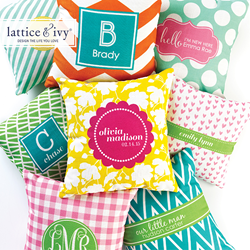 They're going from Start-Up to Stardom, one more time!
Glendale, AZ (PRWEB) March 11, 2015
Origami Owl's Former Chief Business Development Officer, Christopher Ellis, Launches New Social Selling Company, Lattice & Ivy®
Hundreds of Design Consultants are already selling and endorsing Lattice & Ivy through in-home Design Bar parties.
After nearly two decades of success within the Direct Sales industry, Chris Ellis along with his wife Mary, are proud to announce the launch of their new social selling company, Lattice & Ivy. http://www.latticeandivy.com/about. Together, their mission is to bring creativity, energy and passion to the world of personalized style by creating meaningful accessories and giftable products for their sales force and their customers. According to Founder Mary, Lattice & Ivy "blossomed out of passion for style and a love of helping others. We wanted to create an entrepreneurial platform for women; we're all about empowerment, expression, and opportunity."
In no time at all, over 300 consultants have joined Lattice & Ivy as Independent Design Consultants. Supported by a talented executive team, Lattice & Ivy expects triple-digit growth this year. As Chief Executive Officer, Chris Ellis brings his strong leadership style and his past co-ownership experience as Origami Owl's Chief Business Development Officer to the Lattice & Ivy brand. "Origami Owl experienced hyper growth that produced over $250,000,000 in sales and we ultimately landed in FORBES Magazine," Chris Ellis explains.
Right from the start, Ellis launched an industry leading "design it yourself" interactive tool for Lattice & Ivy's website, http://www.latticeandivy.com. This web-tool allows consultants and their customers, to have as little or as much input when customizing a variety of different products. Lattice & Ivy is also in the final stages of developing their Mobile App that will help customers find their own "personal style" and add to the excitement of in-home Design Bar® parties. The on-trend products offered by Lattice & Ivy on their website are special because, "our brand is not just about the product itself; it's more about the opportunity to create something that's truly yours and one-of-a-kind. The meaning behind the finished product sends the message of 'My Design – My Story', and seeing final product designs are one of the most exciting characteristics of our business," Chris Ellis asserts.
Lattice & Ivy provides what Chris & Mary refer to as "a winning opportunity for many." The company allows anyone, over the age of 14, to register online and sell their products as an Independent Design Consultant. http://www.latticeandivy.com/join. Chris Ellis says, "Most people are drawn to Lattice & Ivy because of the flexibility to design your own product and the additional 25-45% commission income opportunity from sales on your personalized website or home party." The one-time Business Starter Kit purchase as an Independent Design Consultant is $149, which includes the tools they need to get started. As new Independent Design Consultants, they also receive a Free $100 shopping credit with their Starter Kit, allowing them to add their own personalized styles to their collections.
ABOUT LATTICE & IVY®
Lattice & Ivy is the New Social Selling Company featuring a diverse line of personalized gifts and lifestyle accessories. Their product line includes a variety of on-trend items such as kitchen goods, home décor, tech, stationery, custom baby and children's gifts and more. With Lattice & Ivy, Independent Design Consultants have the flexibility to run their own business, help others create meaningful keepsakes and offer quality products that are personalized all from their in-home Design Bar® parties, all while earning a profit. Visit http://www.latticeandivy.com to learn more about the company and its once in a lifetime ground floor opportunity. #latticeandivy #DesignTheLifeYouLove
For additional media information related to this press release, including high-resolution images, logos or additional details, please contact Maile Cabral. Phone: (360) 561-0961. For information about the company Lattice & Ivy. Phone: (855)-371-1411 or E-mail - info(at)latticeandivy(dot)com.