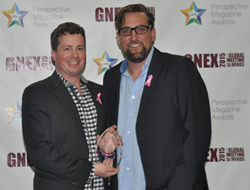 Salt Lake City, UT (PRWEB) March 11, 2015
TrackResults Software recently won Best Business Product from the Perspective Magazine Awards at the GNEX Timeshare Conference. Despite being up against companies with massive-budgets and resources, the small TrackResults team was able to secure their prize against a field of Goliath competitors.
TrackResults's consistent delivery of clean, user-friendly analytics is the main reason they are so embraced by their peers. It is the reason they get their platform committed with clients such as Westgate Resorts, Welk resorts, Sheraton Hacienda del Mar, Grupo Vidanta Hotels and Resort, and many more. In the end, the value of TrackResults's business-analytics software was big enough to place them at the very top.
The Perspective Magazine Awards is the most coveted, global-recognition program in its industry. It's used as a showcase for the talents and advancements of companies and organizations in the vacation-ownership space and the suppliers who serve them. The awards are held annually as part of the GNEX Conference, where leaders in the timeshare industry meet to network and discuss trends and innovations in the business. This year's awards ceremony was held in San Diego, California as part of a private event that took place aboard the USS Midway Navy aircraft carrier.
"Attending the awards again this year turned out to be a pretty momentous occasion for us," said Sean Nickerson, CMO for TrackResults Software. "These awards are given as a result of both a judging panel and voting among our industry peers, so being awarded the Best Business Product is quite an honor and accomplishment for us."
Last year TrackResults won Best Product Development, and this year's award demonstrates consistency and leadership in providing critical business applications to TrackResults's clients. The Best Business Product award is given to the one company that provides the most valuable, behind-the-scenes assistance to organizations in the vacation-ownership industry. Among all the companies in consideration, with many industry leaders included, the judges and voters from the conference this year found TrackResults's revolutionary analytics software the most worthy recipient for this prestigious recognition.
More About Track Results
TrackResults Software is a Utah based software company that offers business-intelligence solutions for the vacation-ownership industry. The company's mission is to provide powerful tools for decision makers to access reports, graphs, and data visualization to identify trends, opportunities, challenges, and actionable information in order to boost business performance on items that affect the bottom. TrackResults delivers users a uniquely fast, customizable view of figures right when they need them. TrackResults Software is a Chairman's League Member of American Resort Development Association, a member of the Resort Development Organization, Better Business Bureau, Resorts of Distinction, Resort Developers Association, Cooperative Association of Resort Exchangers, AMDETUR, and The Utah Technology Council.