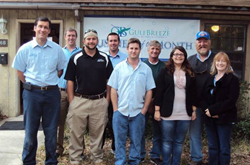 "If you don't have a good air filter...you are one."
Gulf Breeze, FL (PRWEB) March 11, 2015
The Gulf Breeze Area Chamber of Commerce membership has nominated & selected Gulf Coast Air Care as the business of the month for February 2015. This company was chosen from a field of nominations of local companies with excellence in business/community involvement and a track record of ethics in the business marketplace.
Gulf Coast Air Care has been a long term member of the Gulf Breeze Area Chamber of Commerce and has been providing Indoor Air Quality (IAQ) services to Northwest Florida residential and commercial customers for over 20 years. They provide air duct cleaning to address poor indoor air quality issues like hot/cold rooms, excessive dust, allergies and Asthma, and high utility bills. Heating and Air Conditioning (HVAC) issues are the top concern for homeowners experiencing poor Indoor Air Quality or unhealthy indoor environments.
Companies like Gulf Coast Air Care are providing solutions for IAQ issues with specialized training and certifications from organizations like NADCA, 'The Association for Inspection Cleaning & Restoration of HVAC Systems' (formerly known as the National Air Duct Cleaners Association). The staff at Gulf Coast Air Care operates in accordance with the NADCA code of Ethics and has had numerous certified ASCS (Air System Cleaning Specialist) technicians for many years.
Additionally, Gulf Coast Air Care has received other awards including Business of the Month in October of 2012 from the Gulf Breeze Area Chamber of Commerce as well as 2 Business Ethics Awards from the Better Business Bureau (BBB) in 2009 and 2014.