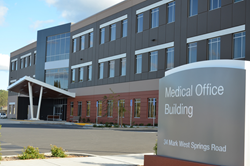 Santa Rosa, CA (PRWEB) March 12, 2015
For the last year, SRO surgeons and staff have been working closely with architects to develop a facility designed to maximize patient comfort and assist with the highest patient outcomes possible. The new office spans 11,000-square-feet, providing ample space for private exam rooms, state-of-the-art rehabilitation area, and diagnostic imaging services. The outpatient surgery center is downstairs and the new Sutter Hospital is adjacent to the new office.
SRO physical therapists and occupational hand therapists treat well over 2,000 patients every year, totaling about 30,000 visits. A multitude of factors such as age, weight, body type, and nature of injury makes each patient's recovery unique. SRO's new, premier facility enables physicians to deliver personalized, collaborative treatment for each individual patient with input from surgeons and physical therapists who share the same location. This carefully designed collaborative environment creates a unique synergy resulting in the most effective possible approach to meet individual patient needs.
The SRO treatment model is designed to promote thorough diagnostics, meticulous attention to surgical details, as well as a carefully monitored post-surgical rehabilitation and recovery. The Sports Medicine and Rehabilitation Center on Mark West Springs Road provides the perfect setting for delivering the care patients have come to expect from SRO's Centers of Excellence. The satellite office will host appointments for patients of the Hand Center, the Foot and Ankle Program, the Total Joint Replacement Program, as well as the Total Spine Health Program.
SRO's Ten multi-specialist orthopaedic surgeons along with experienced physical and occupational therapists make up the professional orthopaedic care team at SRO. In its efforts to bring the best outcomes to patients, SRO has set the model for exceptional orthopedic care for over 60 years. SRO offers patients in-house diagnostic imaging, rehabilitation, sports injury prevention, as well as advanced surgical treatments in joint replacement, sports medicine, spine, trauma care, hand and upper extremity, foot and ankle, and general orthopaedic surgery.
When SRO's new Mark West Springs office opens in April, SRO will close its Stony Point office. The Montgomery Office located at 1405 Montgomery Drive adjacent to Memorial hospital will remain open. SRO is proud to have two convenient office locations in prime areas to serve our patients. Our staff respects the fact that injuries and chronic conditions limit mobility for many of our patients, and it is our goal to minimize the travel distance required to receive orthopaedic care. For more information on SRO surgeons and services, please visit srortho.com, or call (707) 546-1922 to schedule an appointment.