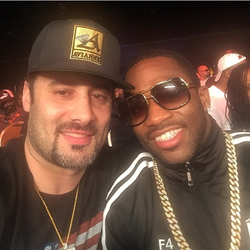 New York, NY (PRWEB) March 13, 2015
Three-weight world champion, Adrien "The Problem" Broner lived up to his nickname last Saturday in the light-welterweight fight against John Molina at the MGM Grand Garden Arena, Las Vegas. Kicking off NBC's "Premier Boxing Champion" on prime time, Broner took home another win, as a unanimous decision was made after he won all 12 rounds. CEO of Avianne & Co Jewelers, Joe Avianne flew to Las Vegas from NYC, Friday night to come and support his good friend and long-time client.
Avianne & Co was Broner's official sponsor of the night. The 25-year old athlete rocked the company's logo while giving Molina a steady and controlled fight. Seated side by side with Joe Avianne in the front row of the audience was Elliot Avianne who flew in from Los Angeles after meeting with several clients. Joe also brought along with him several micro gold and diamonds AB (About Billions) pendants which were gifted to Broner after the predicted win.
The master jewelers at Avianne & Co has been responsible for all of Broner's iconic jewelry pieces including his massive custom made "About Billions" Gold Pendant. Broner also owns several of Avianne & Co's notorious Royal Collection pieces.
The designers and celebrity jewelers at Avianne & Co. are constantly developing exciting new pieces to bring their loyal customer's ideas to life. While several companies offer similar services, it's the personalized approach, atmosphere, and overall experience that make the services provided by Avianne & Co. invaluable to artists and entertainers all over the world.