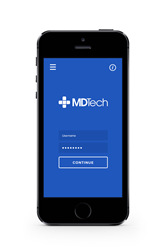 "After a detailed analysis of the Charge Capture market place, it was clear to our executive team that MD Coder 10 provided a comprehensive charge capture solution that was shoulders above the competition"
Houston, Texas (PRWEB) March 11, 2015
Medical Design Technologies, a provider of the leading Mobile & Web Based Charge Capture platform, today announced its implementation and partnership with Global Healthcare Alliance, one of the nation's more successful medical billing companies.
Through the relationship, Global Healthcare Alliance will continue to deploy MDTech's charge capture technology to streamline its services. With their clients working from multiple practices, locations, inpatient and outpatient facilities, Global Healthcare Alliance has been surveying the market for an advance charge capture solution that would improve their operations as well as well improve the relationship between their clients and leading technology solutions.
"After a detailed analysis of the Charge Capture market place, it was clear to our executive team that MD Coder 10 provided a comprehensive charge capture solution that was shoulders above the competition", said David Dickey, Chief Information Officer at Global Healthcare Alliance. To finalize our partnership, we implemented MD Coder in one of our larger Houston based practices. "This particular practice went from paper on a Wednesday to MD Coder on a Thursday and never looked back! With a six week implementation time frame including several integration touch points, we were able to successfully transform their practice to capture over 15,000 charges per month electronically" said Damon Spiegel, CEO of Medical Design Technologies.
MD Coder is a perfect partner for Global Healthcare Alliance. We have a diverse Revenue Cycle Management portfolio of customers. We see MD Coder 10 as a perfect mobile solution that is intuitive, highly flexible, ICD-10 ready and ready to use, right out of the box. Our customers have longed for a solution like this and to have a local partner in Houston will be invaluable moving forward" said Tobin Lassen, VP of Business Development (or John Adams). "To have such a successful launch of the product has been beyond our expectations and we look forward to introducing our integrated solution to our nationwide customer base," said Kevin Goertz, Vice President of Operations.
About Global Healthcare Alliance
Global Healthcare Alliance (Global) provides a comprehensive medical billing solution and revenue cycle management services to healthcare providers nationwide. Global's solution combines comprehensive services with its award-winning, online cloud-based practice management system, globalcentara – powered by Microsoft® Dynamics CRM and Silverlight™, to maximize reimbursements, decrease denials and increase practice profitability. Globalcentara's flexibility also provides physicians with the freedom to choose and integrate best-of-breed technology, such as an electronic medical record (EMR), based on their practice's needs. For more information, visit http://www.globalhca.com or call (866) 458-6076.
About Medical Design Technologies
Medical Design Technologies, Inc. is committed to providing intuitive, innovative, and comprehensive enterprise solutions for physicians and healthcare organizations that leverage mobile and cloud technology. Our products add value not only to the physician and patient, but also to the overall healthcare system. MDTech draws on the experience and perspectives of leading physicians to develop innovative wireless and handheld solutions that are practical, usable, and relevant to the needs of healthcare providers. Medical Design Technologies is currently the market leader for mobile and web based charge capture solutions for physicians providing robust revenue cycle management and analytics. For more information, visit http://www.mdtech.com or call 888.253.8813