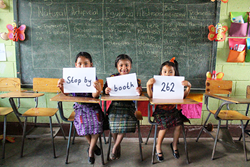 God's love is unbounded: it has no limits! – Pope Francis
Kansas City, KS (PRWEB) March 10, 2015
Unbound will offer religious educators information on a unique opportunity to teach about the Gospel call to serve the poor and marginalized as part of the Los Angeles Religious Education Congress March 13-15 in Anaheim, Calif.
Unbound has helped more than 800,000 families striving to lift themselves out of poverty, while providing Catholic families and students an opportunity to put their faith into action through sponsoring a child, youth or elder in one of the 21 countries where Unbound works.
Unbound will be set up at booth 262 at LAREC with information on how to get involved.
Unbound will have information on sponsorship, fundraising ideas for youth groups and a Catholic educational curriculum that ties work with those in poverty to a young person's involvement in the Church's social teachings.
Unbound is also happy to help Catholic journalists with stories about individual Catholics in your area who are doing great things in the world.
For journalists attending the event, please stop by booth 262 or call Loretta Shea Kline at 816-377-4251.
Topics include social justice and the dignity of the poor and elderly referenced by Pope Francis, the "culture of encounter" and how it pertains to walking in solidarity with the world's poor, current events in Latin America and other regions where Unbound works, and sponsorship and how it fits into Lent.
"God's love is unbounded: it has no limits!" – Pope Francis
Unbound is an international nonprofit founded by lay Catholics grounded in the Gospel call to put the needs of the marginalized and vulnerable first. Unbound works side by side with people of diverse faith traditions in 21 countries, bringing people together to challenge poverty in new and innovative ways.
Unbound distributes direct aid as quickly and efficiently as possible to people who need it. More than 93 percent of Unbound's expenses go toward program support.
#