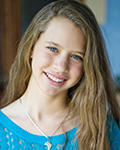 Top universities have caught onto the fact that homeschoolers are a significant talent pool of self-motivated, well-read, independent thinkers.
Littleton, Colo. (PRWEB) March 19, 2015
Thirteen students were recently awarded a total of $92,000 in college scholarships in the 16th annual Sonlight Scholarship Program from Colorado-based homeschool provider Sonlight Curriculum.
Top 2015 scholar and winner of the $20,000 Sonlight scholarship, Keila Pieters, studied with Sonlight from kindergarten through high school.
"Our daughter was born to be a world changer," said Tracey Pieters, Keila's mom. "Though Keila has the drive, talent and discipline to go far in the private sector, it's the poor, forgotten and desperate of the world she's committed to serving. Her desire to study medicine and become a missionary doctor is a natural outgrowth of a heart that wants to impact the world for Christ and His kingdom."
"Keila has a veritable kaleidoscope of interests and creative pursuits – writer, photographer, web designer, blogger, film editor, cook, seamstress, painter, calligrapher, musician and more. We're thankful for her broad exposure to the liberal arts through Sonlight's literature-rich curriculum, making her an avid reader of a broad range of genres," her mom, Tracey, continues.
"She has received an incredible education with Sonlight Curriculum, helping her become the extraordinary person she is today."
In her personal essay titled "Making My Life Count," Pieters summarizes, "I desire to live my life with unhindered faith, uncertain risk and unexpected adventure. … I wish to be bold!"
The 2015 Sonlight scholarship winners, who were chosen not only for academic performance but also for exhibiting leadership, creativity, and other virtues, scored an average of 2200 out of 2400 on the SAT, placing them in the 99th percentile nationally.
Sonlight scholarship recipients represent diverse geographic regions from Oman to Oregon. They include a National Merit scholar, a Hollywood Film Festival award-winner, accomplished scientists, artists, athletes, musicians and communicators.
"Sonlight began its scholarship program when homeschooling still seemed unproven. We wanted to assess the achievements of the graduates we were helping to produce with our curriculum. We were amazed with not only the test results, but also the caliber of students overall," said Sarita Holzmann, president of Sonlight Curriculum.
As a pioneer and leader in the market for 25 years, Sonlight is the only homeschool curriculum company to offer a college scholarship to any four-year accredited institution. The company has awarded more than one million dollars to graduates from 17 countries and 35 states since the beginning of the scholarship program in 2000.
For more information about the Sonlight Scholarship Program, visit http://www.sonlight.com/scholarships.html
Homeschooling Is Growing
According to Education News, the homeschooling ranks are growing at a phenomenal rate. Since 1999, the number of children who are being homeschooled has increased by 75 percent. Debates continue to rage around the controversial Common Core program, and as dissatisfaction with the U.S. education system grows, so too does the number of homeschoolers in America. Statistics show the number of primary school kids whose parents choose to forgo traditional education is growing seven times faster than the number of kids enrolling in K-12 every year.
As homeschooling comes of age, more and more homeschoolers are recruited by colleges and universities.
"Many of the top universities have caught onto the fact that homeschoolers are a significant talent pool of self-motivated, well-read, independent thinkers," said Holzmann. "These students tend to bring higher test scores and graduation rates, take leadership roles and fan the flame of intellectual curiosity everywhere they go. Sonlight equips them to go wherever God calls and life leads."
Sonlight provides preschool through 12th grade courses that encourage the value of lifelong learning; offering college scholarships supports this vision for continued education.
Since 2006, the average SAT score of homeschooled students applying for Sonlight scholarships has been 1924 out of 2400, nearly 17% higher than the national average.
Sonlight Curriculum is the original homeschool company and pioneer in literature-based curriculum for preschool through high school students. They've been inspiring a love to learn in families for 25 years. Based in Littleton, Colorado, Sonlight's Christ-centered mission is to provide complete curriculum packages and individual resources that enable parents to homeschool their children, currently in more than 100 countries worldwide.