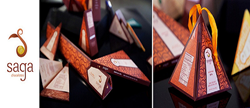 LOS ANGELES (PRWEB) March 10, 2015
Four Woodbury University graphic design students have been named winners of the 2015 American Package Design Awards, sponsored by Graphic Design USA, bringing the total number of awards received by students enrolled in the university's Graphic Design program to more than 30 since 2010.
Students Haley Clark, Kimberly Mena, Martin Sanchez and Courtney Wolf were selected based on package design work produced during their third year of study in the Woodbury Graphic Design program. Woodbury students were charged with developing a concept for a line of products, defining the audience, positioning the product and creating the name, logo and final package design. The designs were submitted to the national competition and are eligible to appear in the April 2015 editions of print and online publications produced by Graphic USA.
"Today, more than ever before, marketers and retailers rely on package design to convey their message and promote their brands to audiences that are fragmented and using media that increasingly is diluted," said Sue Vessella, M.F.A., Chair of Woodbury's Graphic Design Department and Associate Dean of the School of Media, Culture & Design. "Packaging can make the difference when it comes time for a consumer to decide whether or not to purchase a product. Competitions like this one celebrate the power and importance of package design, and this recognition provides further evidence of the caliber of students who are attracted to our Graphic Design program."
Clark was recognized for developing packaging to promote a product line she created called "L'heritage Heirloom Seed," while Mena created the concept line and packaging for "Saga Chocolates." Sanchez won for his package design work for "Stacks Sophisticated S'mores," and Wolf was honored for "Blind Pig Whiskey Milk Punch."
"We are so proud of these students, whose creativity and dedication to mastering their craft bring recognition to themselves and to Woodbury University, "said Edward Clift, Ph.D., dean of Woodbury's School of Media, Culture and Design. "Competitions such as this one provide a real-world experience that will serve these students well as they graduate and compete for top jobs in the graphic arts field."
About Woodbury University
Founded in 1884, Woodbury University is one of the oldest institutions of higher education in Southern California. It offers bachelor's degrees from the School of Architecture, School of Business, School of Media, Culture & Design, and College of Transdisciplinarity, along with a Master of Arts in Media for Social Justice, Master of Architecture (MArch), Master of Interior Architecture (MIA), Master of Science in Architecture (MSArch), and Master of Leadership. The San Diego campus offers Bachelor of Architecture and Master of Architecture degrees, as well as an MSArch degree with concentrations in Real Estate Development and Landscape + Urbanism. Woodbury ranks 15th among the nation's "25 Colleges That Add the Most Value," according to Money Magazine. Visit http://www.woodbury.edu for more information.