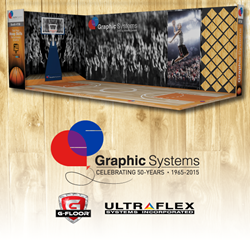 'G-Floor allows printers, like Graphic Systems, to provide retailers and brand companies with unlimited design options for their flooring. They are no longer limited to traditional carpet or vinyl options,' adds Bill Rothe, VP-Sales of G-Floor.
Minneapolis, MN (PRWEB) March 23, 2015
Las Vegas, March 24-26, 2015 - Graphic Systems, a leading digital printer, is teaming up with G-Floor and Ultraflex Systems. Visitors to the Graphic Systems booth 4758 at GlobalShop will receive a little one-on-one time with the Graphic Systems team. GlobalShop is the ultimate arena for viewing Graphic Systems latest portfolio offerings, including G-Floor, IllumiSol BL Film from Ultraflex and Paraža-Custom Colored substrates. Experience walking on the Final Four court (or a striking representation of it) and test your hoop skills for an opportunity to win a GoPro. The only thing missing will be the confetti and 40,000 screaming fans.
"Retailers and brands are always seeking ways to create new environments to increase floor traffic and sales," states Herm Kauls, President of Graphic Systems. "We are demonstrating G-Floor at our booth as it enables us to create a truly customized floor design that captures customers' attention and can stimulate their imaginations. Replicating the Final Four court is a great way to demonstrate the unlimited potential of G-Floor."
"The mission for Ultraflex Systems is to continue to bring innovative solutions to our printer customers that allow retailers and designers to bring their most unique and wildest ideas and concepts to life. G-Floor is truly such a product," adds Terry Amerine, Director of Marketing at Ultraflex.
Graphic Systems, Inc. celebrates its 50th year of delighting clients with graphic solutions. GS has evolved into a world-class provider of photographic and digital printing by investing in an experienced creative team and the industries leading technology. Offering design, printing, installation and fulfillment services for today's most recognized retailers and brands.
At the end of the day, exceeding expectations is our goal. Graphic Systems is ever-changing to bring our clients creative, innovative and cost-effective solutions.
For more information contact: Jodi Haugen, Director of Sales & Marketing
Email: jhaugen(at)graphicsystems(dot)com
Phone: 800-235-0387
Website: http://www.graphicsystems.com
Taking a new direction in print media, G-Floor Graphic is a one-of-a-kind company, manufacturing grand-format print media suitable for a wide range of applications. G-Floor is designed for second surface printing with both UV and solvent inks. Extruded as a clear, flexible pure PVC product, it provides the ultimate in image protection with the thickest and widest wear layer in the industry. Manufactured in widths of up to 10 feet and in both flexible 75 mil and semi-rigid 95 mil thicknesses, G-Floor Print Media provides graphic protection that other flooring options just cannot match. With G-Floor Print Media, you are no longer creating floor graphics, but Graphic Floors
Ultraflex Systems, Inc. is the leading innovator, developer, and supplier of a wide range of flexible PVC media and specialty substrates from 30" to 16'4" widths for eco-solvent, solvent, Latex, UV, screen and dye-sublimation printing. Ultraflex Systems Inc began over 25 years ago with Ultralon® a back-lit, 5m wide flex face PVC sign material that integrated crystal clear, low shrink, polyester yarns so that the pattern of the scrim would disappear when illuminated. It was the first product of its kind and it took Ultraflex and the industry to a new level of development and innovation in print materials. Today, with over 50 unique flexible sign materials in stock across the globe, Ultraflex is a leading supplier of printable sign substrates to the signage and graphics industry. Our extensive product lines enable us to provide diverse options at all price points as we continue to strive to exceed our customer's expectations.