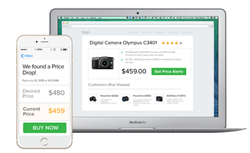 WiseAlerts boosts revenue for online retailers that want to capture purchase intent and act on it when the time is right
San Francisco, CA (PRWEB) March 10, 2015
Today Wiser, the premiere retail price intelligence and repricing engine, announced a new product to its suite of solutions called WiseAlerts. It allows retailers to notify customers by email when specific items they are interested in drop in price or are restocked. The end goal is to have the shopper complete the purchase as a result of the notification.
WiseAlerts makes it possible for retailers to remarket to their customers to improve the likelihood of checkout. This product addition is especially important because abandoned carts are a major problem for online retailers. Approximately 72% of online shoppers are likely to abandon their carts and only 8% will return to make the purchase. Wiser hopes to change these figures with WiseAlerts and make cart abandonment a thing of the past for online retailers of all sizes.
The introduction of WiseAlerts also aims to drive loyalty by personalizing the shopping experience through its core functionality of delivering customized pricing and stock alerts. WiseAlerts allows retailers to optimize pricing and timing to improve conversion rates.
Wiser's CEO, Arie Shpanya, explains "Many Big Box retailers, like Amazon, already have a system of notifications in place and WiseAlerts makes makes this technology available to all other retailers. It's a new way to stay competitive in the fast-paced world of online retail." WiseAlerts boosts revenue for online retailers that want to capture purchase intent and act on it when the time is right. It's a win-win as retail customers will benefit from this software as well. Price-sensitive shoppers get alerts when desired items go on sale and have the ability to complete their purchase at a lower price.
To learn more about WiseAlerts, click here.
About Wiser:
Wiser provides a complete suite of solutions to give retailers, brands, and manufacturers the edge to stay both competitive and most importantly, profitable.
Wiser's flagship product is WisePricer, a full-featured dynamic pricing and merchandising engine that monitors, analyzes and reprices retail products in real-time. WisePricer enables retailers to boost profit margins and revenue, price with confidence, and improve merchandising through powering the development of a sound pricing strategy.
For more information on Wiser, please visit wiser.com.