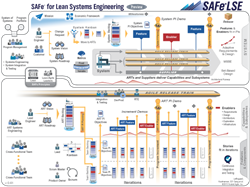 SAFe LSE has the potential to dramatically improve the way that the world's largest systems builders—industrial, defense, transportation, medical, and more—build and deliver value.
Boulder, CO (PRWEB) March 10, 2015
Scaled Agile, Inc. (SAI), provider of the Scaled Agile Framework® (SAFe®), the world's most comprehensive framework for adopting Lean-Agile best practices across an enterprise, today launched a public preview of SAFe for Lean Systems Engineering (SAFe LSE). SAFe LSE is the first-ever framework that provides the values, principles, practices, and organizational constructs necessary to build and deploy complex, cyber-physical systems faster, and with higher quality.
Designed to meet the growing needs of those building the world's most complex systems that contain mechanical, electrical, fluidics, optics and other elements that are increasingly software intensive, the SAFe LSE framework is based on four primary knowledge pools: classical systems engineering, Lean thinking, Agile and scaled Agile (SAFe) development, and Lean Product Development.
The LSE "Big Picture" (http://www.safe-lse.com) provides interactive access to detailed guidance for the people that do the work, their major activities, and the work products that capture decisions and help guide the flow of work. SAFe LSE also features a Program Portfolio interface to SAFe, which facilitates visibility, alignment, and Portfolio level governance for software solutions developed under SAFe, as well those systems developed under SAFe LSE.
The preview site is a work in process. Most articles contain detailed guidance; some articles are currently in abstract-only form. All articles are open for public comment. This public input will be used for ongoing development and refinement of the new framework, resulting in version 1.0 later in 2015.
SAFe LSE is the result of collaboration between Scaled Agile's Chief Methodologist, Dean Leffingwell, systems expert, Harry Koehnemann of 321 Gang, Scaled Agile's Alex Yakyma and Inbar Oren, and a growing contingent of systems engineers in the field.
"This is our response to a growing demand from the systems engineering community to leverage the success of SAFe and extend it to the lean systems-building context," said Dean Leffingwell, creator of SAFe. "SAFe LSE has the potential to dramatically improve the way that the world's largest systems builders—industrial, defense, transportation, medical, and more—build and deliver value, making them more agile in the marketplace and more competitive in their industry."
"We are excited that our collaboration with Scaled Agile has reached this important milestone," said 321 Gang's Director of Technology, Harry Koehnemann, PhD. "SAFe LSE represents the first, viable alternative to the waterfall, phased-gate approach commonly seen in large engineering program and product development efforts, and we believe it will drive positive culture change and greatly improve productivity in the most challenging of environments."
Scaled Agile will be training and certifying qualified consultants and practitioners who will implement the framework in their enterprise or consulting environment. The first training course—Applied Lean Systems Engineering with SAFe LSE—will be held April 14–16 in Boulder, CO, and is sold-out. Additional courses are scheduled later in the year. Register at http://www.scaledagileacademy.com/events/.
About Scaled Agile, Inc. (SAI):
Based in Boulder, Colorado, USA, SAI's mission is to help software-dependent companies achieve better outcomes, increase employee engagement, and improve business economics through adoption of Lean-Agile principles and practices based on the Scaled Agile Framework. A 2014 winner of the Red Herring Global Top 100 Award and 2015 Edison Award Nominee, SAI supports tens of thousands of practitioners of the Scaled Agile Framework through training, certification, consulting services, and a global partner network that reaches over 35 countries and 350 cities. To learn more, visit http://www.scaledagile.com.
About 321 Gang:
321 Gang helps organizations accelerate engineering and development of large, engineered systems. They consult with leading system builders in the aerospace, defense, automotive, medical and electronics industries on best practice for requirements management, model-based systems engineering (MBSE), test management/verification and validation, and traceability for compliance and reporting. 321 Gang also helps companies scale lean and agile practices both horizontally across engineering disciplines, and vertically for large programs. As contributors to the SAFe for Lean Systems Engineering Framework (SAFe LSE), 321 Gang is the first SAI training partner authorized to deliver the SAFe LSE training course.
321 Gang is an IBM Premier Business Partner providing sales, training and consulting on the Rational Systems and Software Engineering solution, and a Scaled Agile Silver Partner providing certified SAFe LSE training and consulting. For more information about 321 Gang, please visit http://www.321gang.com.
SAFe and SAFe LSE Contact:
Francis Kelly, VP of Worldwide Sales & Marketing
+1.303.883.0959
francis.kelly@scaledagile.com
Media Contact:
Regina Cleveland, Director of Communications
+1.720.477.1756
regina.cleveland@scaledagile.com