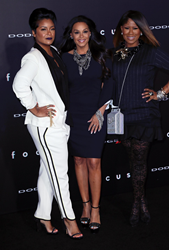 It's a blessing to have a platform like Black Hollywood Live that allows us to connect with women in a way that is authentic, opinionated and thought provoking
Hollywood, CA (PRWEB) March 11, 2015
TV Personalities Sheree Fletcher, Diann Valentine and April Daniels recently partnered with Maria Menounos' Black Hollywood Live network for their new hit show "Just Saying". Just Saying' is a sexy talk show focusing on the ladies' opinions on Good & Bad Sex, Love & Relationships.
Fletcher, who is the outspoken star of VH-1's "Hollywood Execs" and the former Mrs. Will Smith said, "It's a blessing to have a platform like Black Hollywood Live that allows us to connect with women in a way that is authentic, opinionated and thought provoking!"
Daniels, who is no stranger to Reality TV, as one of the stars of We TV's #1 hit show "Tamar and Vince" added, "I am truly excited about our collaboration with BHL! Just Saying will touch on real topics with unfiltered discussions, giving you an opportunity to get to know Diann, Sheree and myself without the editing. Nothing is off limits, what you see is what you get when the 3 of us get together. So be sure to tune in and rock out with us!
These dynamic friends will muse on various topics that will be eclectic, inspirational, encouraging, and relevant! The episodes will be engaging, thought provoking, controversial and delivered in an often humorous, but always real way!
When asked about what fans can expect on the show TV Host and Designer Diann Valentine said, "I'm excited to share thoughts and views that effect all women in an uncut, raw and candid talk show format through a digital platform with two of my best girlfriends".
It is no doubt that fans will be entertained by these ladies. "What I love most about this show is that the ladies all bring their own dynamic flavor and insight to the episodes. The audience is going to be in for a real treat because Sheree, Diann and April are willing to let you know who they really are and I think everyone will be able to relate to them" said BHL President of Programming, Derrial Christon.
Be sure to check out Just Saying on Black Hollywood Live… and do not forget to have your wine ready!
youtube: http://youtu.be/ys5XJYwpaSU?list=PLsewtEOygG8uE3eRxNUGiFMujGi0ncXAR
website: http://www.blackhollywoodlive.com/category/bhl-shows/bhl_just_saying/
soundcloud: https://soundcloud.com/blackhollywoodlive/sets/just-saying
ITunes: https://itunes.apple.com/us/podcast/just-saying/id969755464?mt=2
About Black Hollywood Live:
Black Hollywood Live is the world's first online broadcast network dedicated to African American entertainment. Black Hollywood Live programming features insider information, insightful commentary and in-depth interviews with some of Hollywood's biggest stars and influencers. For more information about the network, visit http://www.BlackHollywoodLive.com or contact @derrialchriston