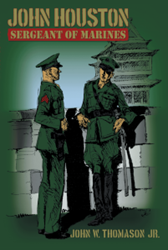 Marine Corps Col. John Thomason Jr. served in World War I in France, earning the Navy Cross and Silver Star for heroism.
RHINELANDER, Wis. (PRWEB) March 12, 2015
Walk a mile in the shoes of a Marine in China and Central America prior to World War II with help from Col. John W. Thomas Jr., who served in the Marines for almost 30 years. He details life in the service in a new collection of short stories released by Dog Ear Publishing. The stories, previously published in magazines and books (some of which are out of print), star Sgt. John Houston, modeled after Thomason himself.
The 12 stories in "John Houston: Sergeant of Marines" highlight Thomason's love of adventure and storytelling. All are based in history and are semiautobiographical or fictionalized anecdotes. The character John Houston represents a real Marine, Harles Linzy Wilkinson, who was stationed with Thomason with the Peking Legation Guard in China during the early 1930s.
The first seven stories, which take place in China, include such titles as "The Sergeant and the Spy," "The Saddle of Jenghiz Kahn" and "The Sergeant and the Siren." The next four offer insight into events leading up to WWII and feature intriguing titles such as "Dog Eat Dog" and "And So He Went Along." The final selection, titled "The Collaborator," is set just after the bombing of Pearl Harbor and the start of WWII and represents the colonel's final literary effort, published after his death.
The book stays true to portraying Marines – and the era – in unflinching language; editors kept words and phrases that are accurate in their historical context but may be considered in a different light by society today. Black and white illustrations by Thomason, Graham Kaye and Harold Von Schmidt round out the gritty stories – and hold their own in helping describe life as a Marine.
Marine Corps Col. John Thomason Jr. served in World War I in France, earning the Navy Cross and Silver Star for heroism. He began serving his country as a Marine on April 6, 1917, the day the United States declared war on the Axis powers. Thomason served for the next 28 years until he died in 1944. Born in Huntsville, Texas, the writer and illustrator studied at Southeastern University, Sam Houston Normal Institute, University of Texas, Art Students League in New York City and the Army and Navy war colleges.
His work was published in magazines such as The Saturday Evening Post, The New Yorker, National Geographic and American Mercury and created 11 illustrated books, including "Lone Star Preacher" and "Fix Bayonets." The USS John W. Thomason Navy destroyer was named in honor of the outstanding Marine. The book was edited and compiled by O.Z. Enterprises of Rhinelander, Wis.
----------
For additional information, please visit http://www.johnthomasonbooks.com
John Houston: Sergeant of Marines
Col. John W. Thomason Jr.
Dog Ear Publishing
ISBN: 978-1-4575-2896-5 252 pages $29.75 US
Available at Ingram, Amazon.com, Barnes & Noble and fine bookstores everywhere.
About Dog Ear Publishing, LLC
Dog Ear Publishing offers completely customized self-publishing services for independent authors. We provide cost-effective, fast, and highly profitable services to publish and distribute independently published books. Our book publishing and distribution services reach worldwide. Dog Ear authors retain all rights and complete creative control throughout the entire self-publishing process. Self-publishing services are available globally at dogearpublishing.net and from our offices in Indianapolis.
Dog Ear Publishing – self-publishing that actually makes sense.