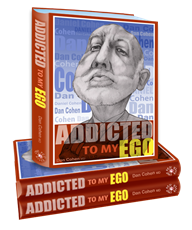 "I am not my ego. But I am addicted to it so strongly that I have been unable to see past it without it blinding me to the truth."
Minneapolis, Minnesota (PRWEB) March 11, 2015
One Red River, Inc. announces the availability on Amazon.com of Addicted To My Ego, authored by Dr. Dan Cohen. It is the journey of a neurologist, a brain doctor in his quest to understand himself. According to Dr. Cohen, "We are at the threshold of a paradigm shift in our understanding of the brain and mind. In particular, the mind is only in small part derived from the organic brain." This shift in understanding will redefine the relationship between brain (ego), mind (spirit) and heart-centered feelings.
Today's scientific, diagnostic equipment does not measure the mind. As a result, attempts to understand the mind must come through explorations that are presently considered unorthodox or unscientific. However, revolutionary therapeutic technology has been developed and is described in this book. This technology enhances the perceptive capabilities of both mind and feeling nature, while simultaneously quieting the brain. One can experience the difference between brain function and mind, which lends further support that the mind and brain are distinct entities.
This line of exploration has direct bearing on one of mankind's most basic questions, "What is a human being?" This book is by no means a philosophical treatise. It is a down to earth, example driven description of actual events and discussions that define human nature. This book is also exceedingly well grounded in everyday psychology and feelings.
One of the inescapable truths to emerge is that most of humanity has become unwittingly addicted to ego, mainly false beliefs. This is the root of all addictions and a function of the brain. Learning how to transition from the ego to the mind is the key, not only to eliminating addiction, but to becoming authentic human beings.
About One Red River
Based in Minneapolis, MN, One Red River, Inc. is the publisher of Addicted To My Ego as well as Claim Your Basics Rights Volumes 1 and 2, co-authored by Dan Cohen, MD and Jennifer Palmquist.