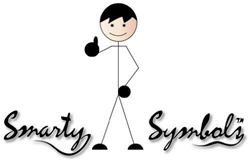 "We want to empower individuals with disabilities with a vocabulary that reflects the communication being used today by everyone which includes words that did not even exist five years ago. Smarty Symbols is a modern symbol set and allows users to express
San Francisco, CA (PRWEB) March 10, 2015
16 months ago InnerVoice, the only app ever to receive an award from MENSA was released. Unlike other Augmentative and Alternative Communication (AAC) systems, InnerVoice is both an engaging toy and a powerful communication tool with never-before-seen features such as 3D animated self-avatars and remote prompting.
Today, InnerVoice is delighted to announce the addition of Smarty Symbols! In an effort to fit the needs of every individual, InnerVoice has added a symbol library. Smarty Symbols is a contemporary symbol set designed to promote learning and communication skills. Like InnerVoice, The Smarty Symbols set is appropriate for all ages and abilities. Smarty Symbols has a modern, up-to-date, comprehensive and very transparent library. Vocabulary is organized into semantic and meaningful categories (such as food, animals, fruits, drinks, communication, expressions, and colors) and can be easily retrieved by the user.
In addition to inserting a fantastic symbol library, InnerVoice has included powerful avatar-editing and voice-changing functions. InnerVoice makes learning to communicate fun for people on the autism spectrum! Watch your pictures, line drawings, or toys come to life, as they speak in a variety of voices and show you how to talk, using video self-modeling. InnerVoice can function as a powerful communication app or as an entertaining and interactive toy, which creates an engaging social experience.
•Smarty Symbols Library organized by category such as animals, verbs, descriptive words, fruits, drinks, insects, etc. Search symbols via category or search by name.
•An easy-to-use edit mode creates personalized avatars and vocabulary to fit individual needs in a snap.
•The ability to add 3D animated avatars from your camera or photo gallery
•An easy-to-use edit mode creates personalized avatars to fit individual needs in a snap.
•Two innovative avatar speech modes -- record-your-message or text-to-speech
•Two Powerful sets of standard pre-programmed vocabularies plus the ability to customize and add buttons and folders.
•Pitch Control for endless voice possibilities
•Button Size/Number Control
InnerVoice was recently featured on NewsWatch as part of its monthly HealthWatch, which features the latest medical products and services available to consumers. Susan Tropeano, a health expert and host of NewsWatch, conducted the app review and shared with viewers how it allows users to personalize their mapping experience. See the NewsWatch Review Video Here.
InnerVoice was co-designed by iTherapy, LLC and MotionPortrait, Inc. The companies are committed to making communication an enriching, fascinating, and entertaining experience. iTherapy, LLC is a speech pathologist-owned and -operated company, which designs multisensory learning and communication tools for special-needs populations. MotionPortrait, Inc. is an entertainment solution company that evokes surprise and impression through creative technological innovations. MotionPortrait, Inc.'s technology automatically creates a 3D face model from a single digital photograph designed to "Surprise and Impress."
*For more information about Smarty Symbols, visit http://www.smartysymbols.com or contact Smarty Ears smartyearsapps.com.
*For more information on the Autism Speaks Neighborhood grant sponsored by Sprouts Farmers Market please visit - http://www.autismspeaks.org/family-services/grants