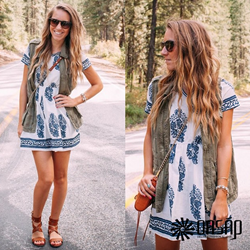 OASAP has started this move for this spring, with their newly designed classic series, blue and white flower print dresses.
New York (PRWEB) March 13, 2015
With the strong development of the Asian economy these years, a lot of famous international fashion brands, such as Zara, C&A, Uniqlo and H&M have entered the Asian market. They hope to attract more online consumers and to reach a new audience.
As a fashion brand, OASAP also decides to seize the opportunity. Today, it announces that a new promotion strategy will be executed on the Asian market in 2015; it has reached partnerships with well-known sites, like Yamibuy.com, Dealmoon.com and Wenxuecity.com, in March. OASAP's purpose has always been to provide the best quality with the most competitive price throughout the year, and it will provide more products for customers to choose, said a spokesperson.
From his latest interview, Jack Ma, the Executive Oversea Marketing Manager of Alibaba Group, told a reporter: "First of all, we'd like to introduce global fashion brands, such as Zara, H&M, OASAP and so on, to Chinese girls; it's a win-win cooperation. Secondly, well-established brands are always popular in China. I think OASAP has made the right move at this time."
OASAP has started this move with their newly designed classic series of blue and white flower print dresses. Recent sales from the OASAP store have demonstrated the success of this decision. Demure Vintage Floral Mini Dress and Floral Jacquard A-line Dress from this series have been listed among top10 hot products of this month.
With this new strategy, OASAP hopes to compete with those world famous brands directly in the Asian market and gain new opportunities in 2015. "OASAP must choose the right development strategy to succeed in the Asian market, where both opportunities and challenges exist," Mr. Moore, OASAP CEO, said.
In addition, OASAP original design dresses have been released on the site now. The catalogue contains products of American style and some with oriental design elements, taking into account the demands from two different fashion markets.
ABOUT OASAP
OASAP IS: A High-street Fashion Online store
OASAP Likes to: Deliver fashion & love!
OASAP is a global online store dedicated to high-street fashion by offering various kinds of women's apparel, bags, shoes, jewellery accessories, beauty products, etc.
OASAP was founded in late 2011 and has already grown to be the leader of high fashion online stores. We keep updating products at a high rate every day. Now we update more than 300 spring fashion clothing each week. The fashion dresses mentioned before definitely belong to the latest fashion trend.
Shop Our New Collection Of Spring Dresses Today @OASAP