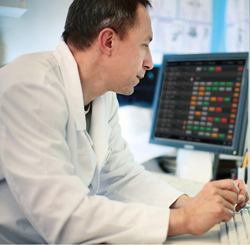 Alcidion's focus is on empowering clinicians to deliver the highest quality patient care. By partnering with Ascribe we can leverage the rich functionality of Symphony and the Ascribe solution suite
Adelaide, SA (PRWEB) April 01, 2015
The MOU enables Alcidion's clinical decision support to be integrated with the broader Ascribe solution suite including the Health Application Platform (HAP) to support the delivery of optimum clinical outcomes.
The partnership will initially focus on the Australian Emergency Medicine market where Alcidion's Miya ED platform, a dashboard that displays 'clean' integrated data from the central data repository, already interfaces with Symphony, Ascribe's emergency and unscheduled care clinical information system. The partnership will be extended to Ascribe's UK customer base in the future.
Emergency Departments face a unique challenge – cope with increasing volumes of complex patients while achieving key performance objectives relating to quality of care and discharge timeframes. As the load on clinician's increases there is an increasing chance that key risks for patients are not identified and acted upon.
Miya ED helps Emergency Department ("ED") clinicians to identify and act upon clinical risks as they arise – both during an ED admission or post discharge.
Duane Lawrence, Ascribe's Managing Director, said, "Emergency Departments are under more pressure than ever before, and getting the right data to the right person, is critical to improving care quality. Integration with Alcidion will provide additional contextual information to our Emergency Department users and support clinicians in making safe and timely decision about patient care."
Moving forward, the medium term focus will be the feasibility of integrating Alcidion's Miya platform into the Ascribe HAP. Ray Blight, Alcidion CEO commented 'Alcidion's focus is on empowering clinicians to deliver the highest quality patient care. By partnering with Ascribe we can leverage the rich functionality of Symphony and the Ascribe solution suite to really make a difference to patient care across the hospital environment whether it's the ED, Inpatient Services or Outpatient Departments.'
### ENDS ###
For further information, please contact:
Ascribe
Duane Lawrence, Managing Director
tel: +44 870 053 4545
duane.lawrence@ascribe.com
Catrina Dwyer, Marketing Coordinator
tel: +61 0409 300 869
ASC Computer Software Pty Ltd
catrina.dwyer@ascribe.com
Alcidion Corporation
Ray Blight, Chief Executive Officer
tel: +61 8 8208 4600
Alcidion Corporation
ray.blight@alcidion.com
Nathan Buzza, Executive Director
tel: +61 8 8208 4600
nathan.buzza@alcidion.com
About Alcidion
Alcidion Corporation Pty Ltd is an innovative health informatics company that specializes in clinical products that improve productivity, safety and efficiency. Alcidion's solutions target key problems for Emergency Rooms, Inpatient Services and Outpatient Departments and are built upon a next generation health informatics platform, which incorporates an intelligent EMR, Clinical Decision Support Engine, Data Integration Capability, Smartforms, Terminology Support and Standards Based Web Services.
Alcidion's focus is on delivering solutions that enable high performance healthcare and which assist clinicians by minimising key clinical risks, tracking patient progress through journeys and improving quality and safety of patient care.
About Ascribe
Ascribe is part of the EMIS Group – the UK leader in connected healthcare software and services. Ascribe delivers high quality clinical IT solutions and services to over 70% of the UK's secondary healthcare providers, and serves customers in Australasia, Malaysia and Hong Kong. Core strengths include Pharmacy and ePrescribing, Electronic Patient Records (including Patient Administration Systems), Unscheduled Care solutions and Mental Health Client Management systems. In addition, Ascribe provides Consultancy expertise in Business Intelligence, Transformation and Integration.
Through integration and interoperability, Ascribe, as a member of EMIS Group, helps clinicians across multiple care settings, share vital information, facilitating better, more efficient healthcare and supporting longer and healthier lives.
Ascribe is a Microsoft Gold Partner and Health Partner of the Year (2012). Ascribe is an Award Finalist in Microsoft's 2014 Partner of the Year for Business Intelligence.
© Alcidion Corporation 2015. Alcidion and Miya ED are registered trademarks. All other brands and product names and trademarks are the registered property of their respective companies.