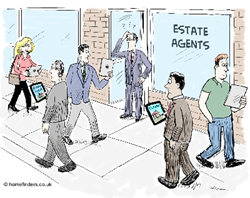 (PRWEB UK) 12 March 2015
Nearly all house buyers start their search for a home on the Internet, and now sellers too are dropping high street based estate agents and selling by using an online estate agency. To keep up with this trend, traditional estate agency Homefinders.co.uk based in Gloucestershire has opened an online arm, http://www.homefinders.property.
The move online was first apparent when one large chain of agents, Hunters, surveyed its customers in 2010 and found that a mere 5% of their buyers actually entered one of its high street premises. Instead appointments to view a property were booked by telephone; negotiations too were conducted by 'phone. With the spread of broadband since then that 5% is surely even lower.
House sellers, however, have continued to use high street agents, all the while complaining about the high level of the agents' fee., However, now sellers too are starting to realise the large savings they can make by using online agencies – around £3,000 for the average house. As the fees are normally fixed, the higher the value of the property the larger the saving.
The service provided by online agencies is not exactly the same as that from the traditional agent. Online agents method of working involves centralising staff whilst covering the whole country, so few online agents will accompany viewings, leaving the seller to conduct prospective buyers around their property. But this is not exactly rocket science and most owners will do this, especially if it results in a savings of several thousand pounds. A For Sale board will not be provided either, but the purpose of the board these days is to advertise the agency, not the property. As previously mentioned, buyers search for properties on the Internet at one of the property portals like Rightmove or Zoopla, not by driving around an area looking for For Sale boards. This point is reinforced by the fact that when a property is sold or let, the agents will add a small slip to announce that the property has been sold or let; now if the purpose of the board was to advertise the property surely the board would be removed once the property has been sold or let? No, the agent will keep that board on display for as long as possible, it is the cheapest way to advertise the agency!
Several online agencies have received substantial investments lately, a sure sign that this is a growth sector.