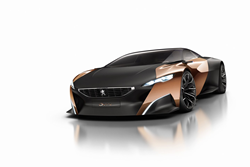 The PureTech range is currently in line for Engine of the Year.
(PRWEB UK) 11 March 2015
Peugeot's technological expertise will be showcased at the 2015 Geneva Motor Show at its stand from 5th to 15th March.
The international car manufacturer will showcase its technology such as its EAT6 automatic gearbox, PureTech petrol engines, as well as other technical innovations.
A major innovation for 2015 is the new EAT6 automatic gearbox that helps to improve the range's operating efficiency. Utilising quick shift technology, Peugeot's EAT6 automatic gearboxes are smoother and quicker. And with only 1g/km increase of CO2 compared to the manual gearbox, EAT6 automatic gearboxes are also better for the environment.
Attendees at the Geneva Motor Show 2015 will also be able to get a closer look at Euro 6 engines. Largely due to Peugeot's roll-out of these engines in 2014, the PSA Peugeot Citroën group is the current Clean Air for Europe (CAFE) leader. The Euro 6 engines have reduced Peugeot's carbon footprint to less than 110g of CO2 per km. Peugeot has reduced its emissions by 27% over the last 10 years.
Other technology on show includes Peugeot's PureTech and BlueHDi ranges. The PureTech range is currently in line for Engine of the Year. The PureTech three-cylinder petrol engines may be compact and efficient, but are still able to deliver a high powered performance. BlueHDi is Peugeot's latest range of efficient diesel engines – compliant with Euro 6 emission standards; these engines are environmentally friendly yet offer a powerful driving experience.
The innovations showcased at this year's Geneva Motor Show are all part of Peugeot's strategy as it aims to set the benchmark for efficiency within its industry.
Also on show at this year's Geneva Motor Show will be three state-of-the-art Peugeot concept cars. The Peugeot Onyx, Exalt and Quartz will display Peugeot's true capabilities in both engineering and technological expertise.
To find out more about the Peugeot technology, on display at the Geneva Motor Show 2015, visit: http://www.peugeot.co.uk/geneva-motor-show/
To learn more about Peugeot's concept cars, go to: http://www.peugeot.co.uk/concept-cars/
ENDS
Notes to editors:
Press contact
To request additional information, please contact public relations manager Kevin Jones on:
E: kevin.jones(at)peugeot(dot)com
T: +44 (0)2476 884215
About Peugeot
Peugeot has designed and manufactured production cars and concept models for 125 years. Its cars are driven in 160 countries. The French manufacturer's latest range of production models includes the Peugeot RCZ R, New 308 and the 108.
About Geneva Motor Show
Held annually, the Geneva Motor Show is one of the world's most prestigious car events. Car manufacturers gather from around the globe to display their latest models, future car concepts, and innovative new technology. The International Geneva Motor Show 2015 will be the event's 85th.