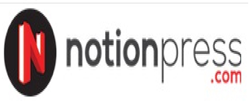 We, at Notion Press, are committed to provide a guided publishing platform to writers who just cannot rely on average services.
(PRWEB) March 10, 2015
Agreed that an author is always sure about the content of his or her literary work; nonetheless, when it comes to dealing with book publishing aspect, not many of them are confident about it. With intent to help writers take their writings to target readers, Notion Press is channelizing its efforts in a way to make the book publishing process easier for both fresh and established writers. The Chennai based leading book publishing and distribution services provider suggests a bevy of self-publishing solutions, each of which promises quality publishing, adequate promotion and extensive distribution across several verticals.
Speaking about self-publishing solutions available with Notion Press, a senior company official told us, "We, at Notion Press, are committed to provide a guided publishing platform to writers who just cannot rely on average services. For more than three years now, we have been making all possible efforts to design and offer quality self-publishing packages that cater to myriad needs and requirements of both seasoned and new writers. At Notion Press, budding and established writers will find a slew of packages that include Silver, Gold, Diamond, and Sapphire packages. Each of our publishing packages includes carefully introduced features that promise quality publishing coupled with maximum exposure."
Notion Press extends the services of a dedicated Publishing Consultant to writers. The Publishing Consultant guides writers through different publishing solutions and suggests the best self-publishing package to them. Interested writers may choose specific package that best meets their expectations and offers them the best value for their money. Some features common to all packages include paperback availability, ISBN allocation, copyright registration, project management, book design, digital proof, inventory management, India online distribution, author portfolio page, dedicated book page, book preview, promo manager, online sales dashboard, and post publishing support.
The senior company official stated further, "Aside from regular features, we allow writers to choose their preferred add-ons, such as newspaper author interview, bookstore distribution, and substantive editing. Moreover, some of our packages include more goodies, which are not available for writers choosing other packages. While the Silver package targets only the basics of book publishing, the Gold package ups the ante with more features. Similarly, writers choosing Diamond package are not eligible to reap the benefits offered by the Sapphire package."
Notion Press further offers a bevy of scalable solutions to help writers let the world know of their creativity. Furthermore, the book publishing company projects itself as a guided platform that tells writers how to publish a book in India. Moreover, Notion Press takes immense pride in helping major poetry publishers in India https://notionpress.com/ by offering them excellent book distribution solutions.
About Notion Press:
Based in Chennai, India, Notion Press has now become a leading book publishing, promotion and distribution services provider. In just three years, the company has moved from strength to strength to find itself among India's leading book publisher companies. Thanks to a bevy of solutions offered by the leading book publisher, both established and new writers can rely on one of the top quality of self publishers, i.e. Notion Press, to take their works to the masses.
Contact Information:
Notion Press Media Pvt Ltd,
Old No. 38, New No. 6,
McNichols Road, Chetpet,
Chennai, Tamil Nadu 600031
Phone: +91 44 42524252
Email: publish(at)notionpress(dot)com
Website: https://notionpress.com/