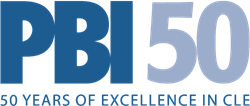 PBI will lead an international conversation about the future of legal education, as well as a total brand overhaul, complete with the implementation of innovative technologies that will enable them to be an even great
Mechanicsburg, PA (PRWEB) March 12, 2015
This year the Pennsylvania Bar Institute (PBI) celebrates 50 years of continuing legal education with big plans for the future. As a centerpiece of their celebration, PBI will lead an international conversation about the future of legal education, as well as a total brand overhaul, complete with the implementation of innovative technologies that will enable them to be an even greater resource to Pennsylvania attorneys.
PBI has a well-established reputation of being the very best in continuing legal education (CLE), and plans to proudly celebrate that throughout 2015. The educational arm of the Pennsylvania Bar Association, PBI has now been serving PA attorneys for 50 years, with both CLE credits and legal reference publications. As a non-profit organization, their all-volunteer faculty force boasts over 2,800 attorneys and professionals that give their time to help build better lawyers in Pennsylvania. PBI has three locations; in Philadelphia, Pittsburgh and Mechanicsburg, and also offers courses at a number of local bar associations and other locations throughout the state. Additionally, their online campus offers PA lawyers an innovative online learning portal where they can improve their knowledge and skill while fulfilling their mandatory continuing education requirements.
While PBI is very excited to celebrate an impressive 50 year history, they are equally as enthusiastic about the future, and their commitment to being an innovator in the continuing legal education industry. Their current President, Honorable Mark A. Kearney, who was recently sworn in as a Judge of the United States District Court for the Eastern District of PA, said "Our 50th year as a leader in CLE is not only an opportunity to celebrate our history and how we got here, but the ideal launch pad for defining the PBI of the future. We have always been the preeminent resource for CLE for Pennsylvania attorneys. With new ways of delivering information and content, it is our goal to expand our resources beyond just substantive CLE, in an effort to be a comprehensive resource for learning, tools and information in real time as change happens."
Seth Mendelsohn, PBI's current Vice President said, "The upcoming Virtual Town Hall meetings on the future of legal education are one component of our renewed initiative to meet the changing needs of Pennsylvania lawyers. We want to lead the conversation about how practice is changing, and be on the forefront, providing the kind of substantive continuing legal education that helps lawyers acquire and expand upon the needed skills. PBI is so genuinely invested in this mission, it is crucial to us to open up the dialogue, and bring together some of the great minds of the legal profession to do so."
The two-part Virtual Town Hall meeting boasts an international panel of attorneys, bringing together the organized bar, law schools, CLE providers, and leading practitioners from the private and corporate bar. The focus of the first webcast at noon on March 31 is to engage in a dialogue to explore the characteristics, skills and competencies that epitomize an excellent lawyer in 2015. In October, part two of the Town Hall meeting will focus on discussion of how law schools, law firms, CLE organizations and bar leaders can better support the needs of lawyers, and help them to develop the attributes identified in the initial conversation. There is no charge for participation in the Town Halls, and 2 CLE credits are available for a nominal fee.
PBI also has unveiled a new web portal for online learning, and they intend to be an informational hub for all things related to law practice, legislative changes and updates, and professional development. PBI plans to increase their use of social media and establish themselves as a comprehensive resource for legal professionals; getting information to them quickly, and in the format they prefer.
"We want to do everything we can to ensure that our customers have full, easy access to the latest information and skills to serve their clients as successfully as possible," says Executive Director Dick McCoy. "Our 50th anniversary presents a great opportunity to reinforce that message and continue to improve the work we are doing to support PA lawyers."
PBI's anniversary celebration continues through the end of 2015, with various opportunities and promotions along the way.