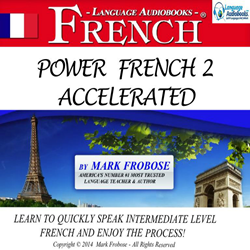 Power French 2 & 3 quickly take language learners from beginning to advanced speaking levels while enjoying the process! Mark Frobose/Author
Champaign, Illinois (PRWEB) March 11, 2015
Mark Frobose, bestselling foreign language program author and creator, announced today that his new publishing company Language Audiobooks Inc., has just successfully released two new exciting French language programs.
"The demand for an interesting and effective intermediate level French language program prompted us to create "Power French 2 Accelerated", states Frobose, who was rated as an excellent French instructor by his students at the University of Illinois in Champaign-Urbana.
Frobose also announced the release and availability of "Power French 3 Accelerated" on Audible.com. "The purpose of Power French 3 Accelerated is to quickly and easily take the learner from intermediate to advanced level French while enjoying the process," explains Mark.
Mark Frobose, bestselling author of French Sentence Magic, also created the entire foreign language audio line for publishing giant Macmillan Audio of New York. He is a virtual foreign language teaching icon having created than 100 top selling foreign language programs over the past 30 years.
Learn Languages Everywhere® is the motto of LanguageAudiobooks.com. The Language Audiobooks® method is an extremely effective and versatile audio language learning system that can be used anywhere for any duration of time to teach people to speak any language while in the car, at home or on a smartphone!
Free sample lessons of Language Audiobooks' popular Power Spanish, Power French, Power Italian, Bite-Sized Mandarin, Conversational Latin-American Spanish, Clean French Slang and other innovative language programs are available now at LanguageAudiobooks.com and at Audible.com.