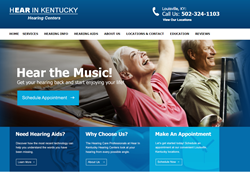 Hearing aid users with Bluetooth enabled hearing aids can connect wirelessly to their phones, audio players, tv sets, and other compatible devices.
Louisville, Kentucky (PRWEB) March 10, 2015
Hear In Kentucky, an audiology practice with Kentucky locations in Louisville and Middletown, is now offering its patients hearing aid models equipped with Bluetooth enabled wireless technology. Individuals suffering from hearing loss will now be able to alleviate several of the difficulties encountered with conventional hearing aids by transforming their hearing aids into a set of high-fidelity wireless headsets.
Standard hearing aids can present a host of issues related to radio interference and background noise. For instance, with traditional hearing aids, talking on the phone can be frustratingly difficult. Phones create radio interference that causes a lot of static noise in the hearing aids. Hearing aid users are required to either struggle through the static or take off their hearing aids, having to speak on the phone without the adequate amplification.
Background noise is an additional problem conventional hearing aids are not well-suited to address. Listening to television programs, for instance, can be difficult when the hearing aid is not able to differentiate between the sounds of the TV and the sounds of clattering dishes in the kitchen sink, for example. Hearing aids tend to amplify the combination of these sounds, forcing the user to either struggle to follow the TV program or to turn up the TV volume to extreme levels.
The key to addressing both problems is in finding a way to deliver the sound signal directly to the hearing aid, bypassing the radio interference and contending background noise. Thanks to Bluetooth wireless technology, this is exactly what can be accomplished.
Hearing aid users with Bluetooth enabled hearing aids can connect wirelessly to their phones, audio players, tv sets, and other compatible devices. Users can receive hands-free phone calls with just the right amplification, listen to the television without distracting background noises or voices, and stream music in high-definition, all without ever having to take off the hearing aids.
If you would like additional information on how wireless technology can benefit you, or if you would like to schedule an appointment to get fitted for a compatible hearing aid, visit http://www.hearinkentucky.com or call the contact numbers below.
About Hear In Kentucky
Hear In Kentucky is a full-service audiology practice located in Kentucky, with locations in Louisville and Middletown. Equipped with state-of-the-art technology and compassionate staff, Hear In Kentucky offers comprehensive services including hearing tests, hearing aid evaluations, custom hearing aid fittings, hearing aid cleanings, rehabilitative counseling, preventive care advice, and service and repair for all hearing aid models. With services delivered in a relaxed and comfortable atmosphere, Hear In Kentucky is Kentucky's leading destination for better hearing.
Contact:
Greta Ratliff
Hear In Kentucky
502-324-1103
http://www.hearinkentucky.com
Locations:
Hear in Kentucky Hearing Centers
102A Fairfax Avenue
Louisville, KY, 40207
(502) 324-1103
Hear in Kentucky Hearing Centers
7132 Preston Hwy
Louisville, KY, 40219
(502) 287-1508
Hear in Kentucky Hearing Centers
12420 Shelbyville Rd
Middletown, KY, 40243
(502) 287-1510