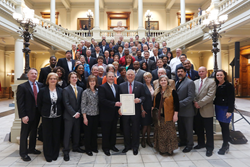 Georgia is fortunate to have state leadership that supports the people who manufacturer things.
Atlanta, Georgia (PRWEB) March 11, 2015
March 4th was a great day for Georgia manufacturers at the State Capitol. The "BUY FROM GEORGIA" Proclamation and the Georgia Manufacturing Day was a huge Success. Governor Nathan Deal presented the proclamation to a group of more than 70 manufacturing and business leaders from around the state.
The "BUY FROM GEORGIA" Proclamation is designed to bring awareness of the many great products that are manufactured in Georgia. Both general consumers and businesses are encouraged to buy more locally manufactured goods year-round.
Following the Governors proclamation, many of the attendees helped celebrate the 7 year anniversary of the Georgia Manufacturing Alliance (GMA). The party was sponsored by Qual Studios and held at 200 Peachtree. Laurie Sossa of Southern Barter Club coordinated an amazing reception with great food and music. "We love to support our Southern Barter Club clients and promote Georgia manufacturers. They are the backbone of our economy." said Sossa. "Many of the manufacturers were thrilled to tour Qual Studios during the anniversary party for GMA. Market research is critical for bringing good products to consumers and Qual Studios is a great resource in Georgia." added Sossa. GMA also announced the "Georgia Video Challenge" which will launch March 15th in conjunction with the proclamation declaring June - Buy From Georgia Month. This video challenge encourages consumers and manufacturers to submit a short video (under 60 seconds) telling about their favorite Georgia manufactured product. Entry in the contest is free and the winners will receive great prizes. To learn more visit http://www.georgiavideochallenge.com
"The Georgia Manufacturing Alliance was founded in 2008 to help support, promote and grow manufacturing in Georgia. GMA has grown over the past seven years from a small networking group of machine shop owners to a state wide association which now includes manufacturing and support companies of all sizes." said Jason Moss Founder of GMA. "We create profitable business connections for our members through direct referrals and the events we provide." Moss added.
To learn more about some of the products that are made in Georgia, visit http://www.buyfromgeorgia.com and to learn more about the organization behind this movement, visit http://www.GeorgiaManufacturing.com