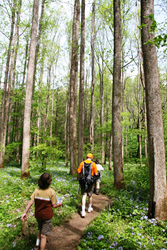 Street festivals, live entertainment, outdoor adventures. We've got it all covered during Gatlinburg Smoky Mountain Spring.
Gatlinburg, TN (PRWEB) March 11, 2015
Gatlinburg rolls out the welcome mat for spring with events dedicated to the art of enjoying the finer things in life and celebrating its Appalachian culinary past! Whether you're looking for street festivals and live entertainment or adventures in the great outdoors, we've got it all covered during Gatlinburg Smoky Mountain Spring.
Wine and art lovers will enjoy exploring the historic Great Smoky Arts and Crafts Community on a private tour of participating galleries during Wine, Dine and Art Crawl on Friday, April 10. Guests will meet the artists while sampling Tennessee wines and enjoying hors d'oeuvres from local restaurants. Tickets may be purchased at http://www.gatlinburg.com/events.
Gatlinburg's Smoky Mountain Wine Fest at Arrowmont School of Arts and Crafts will be Saturday, April 11 from 1 to 6 p.m., and is the perfect pairing for the Wine, Dine and Art Crawl. Sanctioned by Tennessee Wineries Association, the highly successful wine festival will feature more than 15 wineries from across Tennessee providing samples of their labels along with local chefs preparing food to compliment the white, red and dessert wines. Additionally, informational demonstrations and seminars will be held throughout the day.
Gatlinburg celebrates its Appalachian culinary past Thursday, May 14 with the festive, fun-filled Gatlinburg Beans 'n Cornbread Festival presented by Bush Brothers & Company. The cook off would not be complete without foot-stompin' mountain music, antique engines and lots of beans and cornbread for tasting! Visitors can sample all the different recipes while supplies are available. The street festival takes place in downtown Gatlinburg near Traffic Light #3.
Gatlinburg Smoky Mountain Spring provides ample opportunities to get outdoors. Calling all trout fishermen for the 16th Annual Smoky Mountain Trout Tournament, Saturday, April 4 and Sunday, April 5. To accompany the Trout Tournament, the 65th Annual Spring Wildflower Pilgrimage kicks off Tuesday, April 21 with more than 150 different programs to explore the flowers, plants and wildlife of Great Smoky Mountains National Park.
Gatlinburg's Earth Week Celebration from Sunday, April 19 to Saturday, April 25 gives families an opportunity to get outdoors together for a week of fun, educational events designed to raise awareness of easy-to-adopt green practices. The Spur Clean-Up Day Tuesday, April 21 is a great way for adults and children to see firsthand the benefits of keeping litter out of Great Smoky Mountains National Park. The Earth Day 5K Run/Walk on Friday, April 24 gives runners a chance to run through downtown Gatlinburg at night! The pinnacle of the week is the giant Earth Day Festival on Thursday, April 23. Everyone is invited for free and fun educational activities, food, games and entertainment.
Gatlinburg's Smoky Mountain Spring brings out the best of things to do in Gatlinburg, Tennessee. For a complete list of spring events and to purchase event tickets, visit http://www.gatlinburg.com/events or call (800) 588-1817.