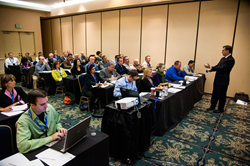 Attendees will learn how to design value streams that flow autonomously at the rate of customer demand
North Kingstown, Rhode Island (PRWEB) March 12, 2015
The Institute for Operational Excellence, the leading educational center providing training and innovative products for achieving Operational Excellence, announced today that it will hold its next training class on Advanced Value Stream Design in Boston, Massachusetts, from May 18 – 21, 2015.
The four-day course is designed to help everyone – from business owners and CEOs to operations personnel and office staff – who want to evolve their traditional lean efforts from an endless journey of eliminating waste to achieving Operational Excellence in months.
The event will be led by Institute of Operational Excellence founder Kevin Duggan and other Institute faculty, who will teach attendees how to achieve Operational Excellence and improve their top and bottom line through five classes:

Achieving Operational Excellence for Real Business Results
Value Stream Design for Operational Excellence
Creating Mixed Model Value Streams
Creating Flow Through Shared Resources
Value Stream Flow in the Office for Operational Excellence
"After taking this course on the road over the past year, we're thrilled to offer organizations close to home a proven training course that will help them take their lean programs further to achieve Operational Excellence and improve their top and bottom line," said Kevin Duggan, Institute for Operational Excellence founder. "Through a combination of class instruction, hands-on activities and case studies of real-world success with the training topics, attendees will learn how to design value streams that flow autonomously at the rate of customer demand so that management can spend less time running the business and more time growing it."
Event information and registration is available here: http://boston.instituteopex.org/.
# # #
About the Institute for Operational Excellence
The Institute for Operational Excellence is a recognized leader and expert resource for organizations and individuals who want to design their lean enterprise to achieve Operational Excellence. Its renowned faculty has helped hundreds of global companies – from startups to Fortune 500 firms – with a wide range of offerings, including training events, online teaching and conference speakers. The Institute also offers a complimentary professional membership that allows individuals to gain access to over 25 how-to articles, podcasts, and videos on achieving OpEx in a variety of industries. For more information or to enroll as a member, please visit http://www.instituteopex.org.