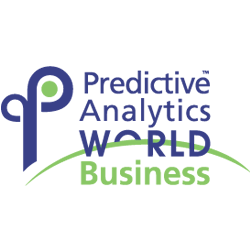 "PAW was probably the best analytics conference that I have attended, from a knowledge point of view, in a long time."
Santa Barbara, CA (PRWEB) March 12, 2015
At the end of this month, the San Francisco Marriott Marquis will be awash with big data conversations, given how current registration numbers are tracking for Predictive Analytics World (PAW) for Business (March 29 - April 2, 2015). Event administrators report that the headcount set to attend this practical, industry-focused analytics event is thus far breaking records.
The heavy interest in the event is likely due to the broad range of educational and social activities that PAW Business has planned–the most of any of the event's prior six years. Highlights of the event program include:

Keynotes by Jack Levis of UPS, Dean Abbott of Smarter Remarketer, and Bin Mu of MetLife
31 sessions on advanced analytical methods and red-hot topics in big data
9 varied training programs, with technical workshops on hands-on methods, uplift models, R for predictive modeling, and more
PAW Business events emphasize community and connections by providing:

Well-attended "after-hours" networking events where professionals can discuss new tools and current challenges
Multiple opportunities for analysts to liaison with respected vendors and brands such as Cisco, Esurance and Nordstrom
Co-location with four other analytics events, including the eMetrics Summit and the Predictive Analytics Times Executive Breakfast
A Director of Data Insights said of a prior PAW event, "[It] was probably the best analytics conference that I have attended, from a knowledge point of view, in a long time." A CEO stated the event was a "great opportunity to enhance technical skills and ascertain industry trends."
Potential attendees can learn more about the event from the PAW Business infographic or by visiting the conference website. Event organizers encourage would-be attendees not to wait long to register, since interest in PAW Business San Francisco is significantly higher than original event expectations.
Information about Predictive Analytics World for Business
Register by March 29th for PAW Business San Francisco (March 29 - April 2, 2015) and save up to $200 off the on-site price.
View the full agenda and see all of the in-depth sessions and workshops available.
Predictive Analytics World for Business is a world-renowned, business-focused event for predictive analytics professionals, managers, and commercial practitioners. This conference delivers case studies, expertise, and resources to achieve:

Bigger wins: Strengthen the impact of predictive analytics deployment
Broader capabilities: Establish new opportunities in data science
Big data: Leverage bigger data for prediction and drive bigger value
The only conference of its kind, Predictive Analytics World for Business covers a wide range of business applications across industry sectors, including marketing, credit scoring, insurance, fraud detection, web optimization, and much more.
About Rising Media Events
Rising Media events provide cutting-edge, practical knowledge for business professionals to improve their day- to-day effectiveness and drive higher returns for their organizations. Attendees learn from leading experts and share knowledge with each other, as well as interacting with innovative vendors in the space. Each event brings together the best and the brightest, creating a forum for insight, energetic exchange and informed purchasing.
About Rising Media
Rising Media is a global events producer excelling in Internet and technology-related conferences and exhibitions. Rising Media-produced events include Data Driven Business, the eMetrics Summit, Conversion Conference, PAW Business, PAW Workforce, PAW Healthcare, PAW Government, PAW Manufacturing, Text Analytics World, Affiliate Management Days, Evolve with Google Analytics, Media Analytics Summit, Marketing Operations & Technology Summit, Building Business Capability, Social Media Economy Days, Web Effectiveness Conference, Inside 3D Printing Conference & Expo, Inside BitCoins, AllFacebook Marketing Conference, Digital Analytics Hub, Search Marketing Expo, SemTech, and Social Gaming Summit in the US, UK, France, Germany, Sweden, Finland, and Australia.