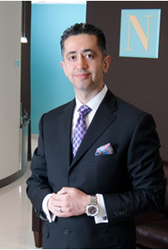 Northern Virginia (PRWEB) March 11, 2015
Dr. Shervin Naderi, one of the most respected Rhinoplasty surgeons in the U.S., has been named by Northern Virginia Magazine as one of Virginia's top plastic surgeons. Dr. Naderi will be honored in the upcoming April 2015 issue of the magazine.
This prestigious top plastic surgeon honor was bestowed upon Dr. Naderi by his local peers. Northern Virginia Magazine surveyed over 5,000 doctors and sought their nominations as to who they felt were the best plastic surgeons that practice in Northern Virginia. Those that received the most nominations will be featured both in the publication and on Northern Virginia Magazine's website. This marks the second year for Dr. Naderi to be honored and named as a top plastic surgeon by the publication.
"Choosing the tops in any medical category is no easy task, so we took the challenge to those who know the field best, Northern Virginia doctors," the magazine said.
Throughout his career, Dr. Naderi has received numerous awards for his work as one of the nation's top Rhinoplasty and facial plastic surgeons. Most recently, Dr. Naderi received the 2014 Vitals Top 10 Doctor Award. This award was only given to the very best physicians, as recipients were chosen based upon patient feedback on the Vitals.com website.
Northern Virginia Magazine was created to celebrate the philanthropists, entrepreneurs, politicians, educators, artists, entertainers, students, and families of the Northern Virginia region. Through compelling articles, the magazine discovers and explores the people that make up the thriving businesses and neighborhoods of the local area. Northern Virginia Magazine has won numerous design and editorial awards including 14 Virginia Press Association awards.
Dr. Naderi is the founder of The Naderi Center for Rhinoplasty & Cosmetic Surgery with two locations near Reston Virginia and Chevy Chase, Maryland. He is double board certified by the American Board of Otolaryngology and the American Board of Facial Plastic & Reconstructive Surgery. Dr. Naderi earned a Bachelors and Masters Degree from Boston University. He went on to earn his medical degree from Drexel University College of Medicine in Philadelphia. Dr. Naderi's reputation extends throughout the world as he sees patients from all over the United States, as well as patients from such countries as England, Russia, India, Denmark, and Canada.
To learn more about Dr. Naderi, please visit http://www.virginiafacialplasticsurgery.com.
The Naderi Center for Rhinoplasty & Cosmetic Surgery
297 Herndon Parkway Suite 101
Herndon, VA, 20170
703-481-0002