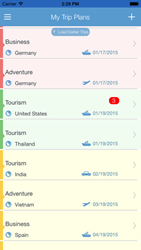 (PRWEB) March 11, 2015
Tourists, adventurers, and business travelers have a new app to provide peace of mind anywhere in the world. MyTravelRx is a personalized subscription health service offering independence and information to its users.
MyTravelRx is available now for free on the iTunes App Store and Google Play.
Users customize MyTravelRx with medical information to receive pre-travel recommendations. Simple Yes/No switches tell the app about health conditions (such as diabetes, heart disease, immune deficiency, or seizures), medications (such as blood thinners, inhalers, antibiotics, or psychiatric drugs), and immunizations (such as flu, tetanus, MMR, and and polio). A "Handyfolio" is generated for each trip plan entered into the app.
Features of MyTravelRx include:

Relevant vaccination clinics
Destination medical providers
24-hour pharmacies
Local specialists
United States embassies
Real-time alerts regarding disease outbreaks, preventive measures, geopolitical events, and environmental warnings
The app links to the user's account on MyTravelRx.com. New members can register for a three-month free trial at http://www.mytravelrx.com.
After the trial there are two plans available:
Basic Membership: unlimited access for 3 months: $9.99.
Premium Membership: unlimited access for one year for $29.99.
More information is available from info(at)mytravelrx(dot)com or 1-202-670-0808.
The MyTravelRx mobile app was developed for NAO Consultancy by Zco Corporation, one of the largest app development companies in the world.
About the Developer
Zco Corporation is a tried-and-true software development company that has been living and breathing technology for over 25 years. A proven and reliable vendor choice, Zco is passionate in its mission to create attractive, resilient products for its clients. Its powerhouse team, one of the largest in the world, was handpicked for specialties in mobile app development, enterprise software, and animation services. To learn more, visit Zco.com or call 603.881.9200.