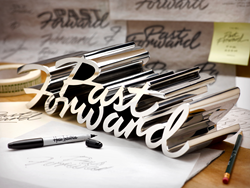 We couldn't think of better hands than those of House Industries' artists to bring the Past Forward Award to life
Dearborn, Mich. (PRWEB) March 10, 2015
The Henry Ford commissioned House Industries to develop a three-dimensional sculpture for their annual Past Forward Award. Inspired by automotive nameplates and the spirit of innovation, House Industries' three-dimensional lettering sculpture for the Past Forward Award celebrates tradition while epitomizing the ingenuity embodied in each recipient's work.
Presented each year at the Detroit Autorama, Past Forward is awarded to the builder who most creatively combines tradition with inventiveness while exhibiting a highly skilled technique and maintaining the whimsical "run what you brung" attitude that defines hot rodding culture. Held every year since 1953, Autorama is one of the longest running indoor automotive shows in the world.
"The nameplate has always been the common thread that connects the past, present and future of automotive design." said House Industries co-founder Andy Cruz. "We thought a dimensional chunk of polished steel lettering that mirrors custom car culture's style, eccentricity and craftsmanship would fit the bill."
House Industries started the project with an exhaustive series of sketches with the goal of creating a balanced lettering lockup that could then be fabricated in three dimensions. Expert sheet metal workers then cut out the lettering shape, hand formed the deep dimension and silver soldered the final assembly. At approximately 16 inches wide, five inches tall and four inches deep, the award is compact enough to hoist over a victor's head but features enough dimensional presence to earn permanent visibility in a garage or trophy case.
"House Industries has a unique understanding of illustrated letterforms and has been a longstanding ambassador of automotive culture," Marc Greuther, chief curator and senior director of historical resources at The Henry Ford. "We couldn't think of better hands than those of House Industries' artists to bring the Past Forward Award to life."
Mark Eaton of Wichita, Kansas received the 2015 Past Forward Award on March 8 at the Detroit Autorama for his '57 Corvette.
ABOUT HOUSE INDUSTRIES
Founded in 1993 by Andy Cruz and Rich Roat, House Industries is known throughout the world for its imaginative font collections and related products including housewares, prints, clothing, toys and decorative objects. Their work has appeared in numerous exhibitions throughout the world and is part of the permanent collection of the Cooper-Hewitt National Design Museum. House Industries fonts provide a typographic backdrop for some of the world's most prominent brands, media outlets and entertainment franchises. Their diverse list of partners and collaborators include the estate of Charles and Ray Eames, the estate of Alexander Girard, the Frank Lloyd Wright Foundation, Hermes, Baccarat, Heath Ceramics, Herman Miller and Jimmy Kimmel.Watch the film.
ABOUT THE HENRY FORD
The Henry Ford in Dearborn, Michigan is an internationally-recognized cultural destination that brings the past forward by immersing visitors in the stories of ingenuity, resourcefulness and innovation that helped shape America. A national historic landmark with an unparalleled collection of artifacts from 300 years of American history, The Henry Ford is a force for sparking curiosity and inspiring tomorrow's innovators. More than 1.6 million visitors annually experience its five attractions: Henry Ford Museum, Greenfield Village, The Ford Rouge Factory Tour, The Benson Ford Research Center and The Henry Ford IMAX Theatre. A continually expanding array of content available online provides anytime, anywhere access. The Henry Ford is also home to Henry Ford Academy, a public charter high school which educates 485 students a year on the institution's campus. In 2014, The Henry Ford premiered its first-ever national television series, The Henry Ford's Innovation Nation, showcasing present-day change-makers and The Henry Ford's artifacts and unique visitor experiences. Hosted by news correspondent and humorist, Mo Rocca, this weekly half-hour show airs Saturday mornings on CBS. For more information please visit our website thehenryford.org.
###