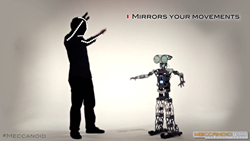 Consumers will have a truly interactive experience by using only their smartphone or tablet. We can't wait to see kids around the world enjoying Meccanoid
Herzliya, Israel (PRWEB) March 11, 2015
Extreme Reality, the only company to provide 3D motion control on any webcam and platform, announced today that its technology will be integrated in the Meccanoid G15 KS, a new personal robot from the iconic global brand Meccano and its parent company, Spin Master. Meccanoid will feature new motion control technology that has never been seen before in any other toy on the market.
"Simplicity was central to the design and development of the Meccanoid from day one so we developed three programming options," said Ben Varadi, EVP & Chief Creative Officer for Spin Master, Ltd. "The three options are a cool new tech we call 'LIM' (Learned Intelligent Movement), a 'Ragdoll' Avatar control via an app and finally, real-time motion capture. In short, we are thrilled to be introducing the Meccanoid and the Meccano brand to a new generation. The all-new Meccano promises to bring a new level of excitement, challenge, creativity and fun to builders as it fully leverages Spin Master's award winning and cutting edge innovation."
Through this partnership, Extreme Reality's motion control software will be integrated to provide users' a natural 3D motion control over Meccanoid from any mobile device. Users will download an app to their smartphone or tablet, allowing them to control the robot by making gestures in front of their camera.
"We are proud and thrilled to be part of this innovative new product," said Asaf Barzilay, CEO of Extreme Reality "Consumers will have a truly interactive experience by using only their smartphone or tablet. We can't wait to see kids around the world enjoying Meccanoid"
The Meccanoid personal robot has already won the prestigious Last Gadget Standing award at the 2015 International CES. The Meccanoid has an expected retail release in August 2015.
Offered as an SDK, Extreme Reality's Extreme Motion is the only technology to provide full-body, software-based, motion analysis and control to any computing device or operating system via a standard 2D camera. This patented technology allows developers and companies to easily add motion control to their existing games or applications and to create a wide range of new experiences for consumers everywhere.
For more information about Extreme Motion technology visit the Extreme Reality Developer Zone at [http://www.xtr3d.com/developers.
About Spin Master Toys
A multi-category children's entertainment company, Spin Master has been designing, developing, manufacturing, and marketing consumer products for children around the world since 1994 and is recognized as a global growth leader within the toy industry. Spin Master is best known for such popular brands as boy's action phenomena and 2009-2010 Boy's Toy of the Year winner Bakugan Battle Brawlers™, and award-winning brands Air Hogs®, Aquadoodle™, Flutterbye™, Spin Master Games™ including 2014 Game of the Year, Boom Boom Balloon ™ and the popular Hedbanz™, Spy Gear™, Tech Deck™, and the 2014 Innovative Toy of the Year Zoomer™. The company has also marked an entry into children's media with the launch of Spin Master Entertainment, a subsidiary focusing on the design, development and production of television and other media properties, including the hit animated preschool series, PAW Patrol™. Spin Master employs over 900 people with offices in Toronto, Los Angeles, London, Paris, Hong Kong, Mexico City, Munich, and Milan. For additional information please visit: http://www.spinmaster.com
About Extreme Reality
Extreme Reality enables a future where people interact with computing devices through the motion of their bodies. It is the only company to provide full-body, software-based, motion analysis and control to any computing device or operating system via a standard 2D camera. Offered as a software development kit (SDK) and with 21 patents granted worldwide, the company's Extreme Motion product enables developers to create a wide range of applications that pioneer Natural User Interfaces (NUI), while breaking the physical barriers of current hardware-based technologies. Extreme Reality was founded in 2005 and is based in Herzelia, Israel. http://www.xtr3d.com
Media Contact at Extreme Reality:
Eden Beinart, eden.binart(at)xtr3d(dot)com