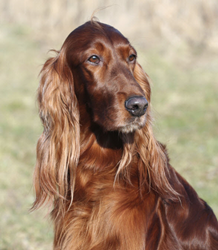 Brea, California (PRWEB) March 11, 2015
In the spirit of St. Patrick's Day, Veterinary Pet Insurance Co. (VPI), the nation's first and largest provider of pet health insurance, analyzed its database of more than 525,000 insured pets to find the five most common Irish dog breeds, Irish beer-inspired pet names, and St. Patrick's Day monikers. Below are the results (total number of pets enrolled/sharing name in parenthesis):
Irish Dog Breeds
1. Wheaten terrier (1,048)
2. Irish setter (366)
3. Irish wolfhound (257)
4. Irish terrier (152)
5. Irish water spaniel (25)
St. Patrick's Day Inspired Pet Names
1. Lucky (1,571)
2. Seamus (228)
3. Clover (134)
4. Patrick (98)
5. Shamrock (52)
Irish Beer Inspired Pet Names
1. Murphy (1,443)
2. Guinness (96)
3. Harp (4)
4. Smithwick (3)
5. O'Hara (2)
"The Irish heritage is widely celebrated in the U.S., and the pet loving community is no exception," said Curtis Steinhoff, Director of Corporate Communications at VPI. "While we may not have our own pet parade for St. Patrick's day, we continue to see a trend of Irish-themed pet monikers year over year."
The Irish wolfhound didn't stray far from its Emerald Isle roots with the most common name amongst the breed being the traditional Irish surname, "Finnegan." Other popular Irish themed monikers included 123 companions named "Jameson," a world famous Irish whiskey, and 118 pets named "Dublin," the capital and largest city of Ireland.
About Veterinary Pet Insurance
With more than 525,000 pets insured nationwide, Veterinary Pet Insurance Co./DVM Insurance Agency (VPI), a Nationwide company, is the first and largest pet health insurance provider in the United States. Since 1982, VPI has helped provide pet owners with peace of mind and is committed to being the trusted choice of America's pet lovers.
VPI plans cover dogs, cats, birds and exotic pets for multiple medical problems and conditions relating to accidents, illnesses and injuries. Wellness coverage for routine care is available for an additional premium. Medical plans are available in all 50 states and the District of Columbia. Additionally, one in three Fortune 500 companies offers VPI Pet Insurance as an employee benefit. Insurance plans are offered and administered by Veterinary Pet Insurance Company in California and DVM Insurance Agency in all other states. Underwritten by Veterinary Pet Insurance Company (CA), Brea, CA, an A.M. Best A rated company (2013); National Casualty Company (all other states), Madison, WI, an A.M. Best A+ rated company (2014). Veterinary Pet Insurance, VPI and the cat/dog logo are service marks of Veterinary Pet Insurance Company. ©2015 Veterinary Pet Insurance Company and Nationwide. Pet owners can find VPI on Facebook or follow @VPI on Twitter. For more information about VPI, call 800-USA-PETS (800-872-7387) or visit petinsurance.com.