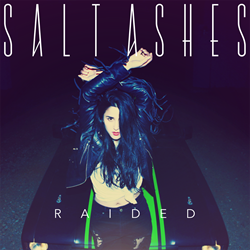 New York, NY (PRWEB) March 10, 2015
Emerging singer Salt Ashes releases her new single, "Raided" today, March 10th, 2015 on Radikal Records. Obsessed with Giorgio Moroder's blend of disco and epic dark atmospheres, Salt Ashes, aka 22 year old Veiga Sanchez, broke into the dance music scene last year with the release of several singles and accompanying remixes. "Raided" follows up her latest single, "If You Let Me Go," which is currently #20 on the Billboard Dance Club Chart and has been confirmed at #15 for the week of March 21, 2015.
"Raided" sees Salt Ashes building upon her unique blend of synth-pop, taking her sound in a slightly darker direction. Clash Magazine, who premiered the single, spoke with Salt Ashes about her inspiration behind the track: "A friend took me to an underground club in Berlin that reminded me of Warhol's 'Factory'. Everyone seemed to be escaping the outside world, hiding whatever secret or story they had. I became fascinated by them and tried to imagine what their real stories were which lead me to write 'Raided'."
The music video for "Raided" was directed by Debbie Scanlan and Liz Adams of De La Muerte Films, who worked with Salt Ashes on her previous video for "If You Let Me Go." In an interview with Wonderland Magazine Salt Ashes stated, "I wanted to create something with a dark B-movie, late-night kind of vibe, probably because I'd been watching a lot of Neo-noir, thriller movies at the time. We wanted to create something trippy and surreal with the idea of allowing the viewer to decide what is and isn't reality."
Check out the "Raided" music video on YouTube at: http://youtu.be/4m3uFUTentY
"Raided" is available for download from:
iTunes – https://itunes.apple.com/album/raided-single/id972685169
Bandcamp – https://radikal.bandcamp.com/album/raided
The new single is also available for streaming on:
Spotify – http://open.spotify.com/album/4n6IonvfpxBB1c9kSsypU8
Track listing:
1. Raided (Radio Edit)
2. Raided (Album Version)
For more information visit http://www.radikal.com.
About Radikal Records:
Established in 1990, and based just outside of NYC, Radikal Records is one of the United States' leading independent record labels. In business for more than 20 years, they are focused on marketing, promoting, and distributing artists – not only to audiences in the USA, but also on a global basis to partners world-wide. Artists included on their roster over the years include: 2 Unlimited, N-Trance, Zombie Nation, ATB, Yello, Scooter, Schiller, Blank & Jones, Cosmic Gate, Sinead O'Connor, Ayah Marar, and many others.